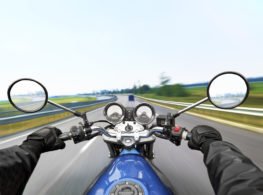 May is Motorcycle Awareness and National Bike Month. It's the perfect time for bicyclists, motorcyclists, and motorists alike to take action to make us safer. Safety is everyone's responsibility because we all have to share the road, and if all road users cooperated by practicing safe riding and driving, we could help reduce the number of injuries and fatalities. In motorcycle crashes alone, 4,976 people died in 2015, which was an 8.3-percent increase from 2014, according to a National Highway Traffic Safety Administration report. In that same year, 818 bicyclists were killed, which was a 13-percent increase from 2014, according to the same NHTSA report.
So what can we do to stay safe, not just in May but every other month of the year, too?
If you're a bicyclist or a motorcyclist, there are a few things you should do. Before you head out the door, you need to ask yourself if you are road ready. Most importantly this means you should be wearing protective gear, especially a helmet. If you were to get in an accident, a helmet is the best chance you have to protect your brain from serious injury. And once you hop on your motorcycle or bicycle, you should always be fully alert, which includes riding alcohol and drug-free. Riding unimpaired is part of riding responsibly, but it also means you should know the local laws and don't take risks.
Statistics show the majority of crashes happen when motorists did not see the motorcyclist or bicyclist, so be sure to make yourself visible. If you want to increase your visibility, apply reflective materials and keep your lights on. Along with this, you should ride defensively (you can take a defensive driving course that will provide you with practical knowledge and techniques to avoid crashes.) When it comes down to it, be smart out there. Proceed cautiously, and leave sufficient room between yourself and motorists on the road. Don't forget to yield to others when necessary.
If you're a motorist, you might be thinking it's enough for bicyclists and motorcyclists to look out for themselves, but it's not. Motorists play an equally important role in keeping bikers safe. Whether someone is riding a bicycle or a motorcycle, he or she may be difficult to see. So the first thing you as a motorist should do is be understanding of the safety challenges that cyclists face. Then, be alert. And be sober. Pay attention to your surroundings. This means check your blind spots and mirrors. Always use your turn signals, including when you're changing lanes or passing. Obey all of the local laws. And don't be a distracted driver. When it comes to sharing the road with motorcyclists and bicyclists, distractions can make all the difference, so put your phone away.
Whether you're in the car or riding a motorcycle or bicycle, it's important to remember we all want to enjoy our ride and make it home safe, not just in May, but all year round. Let's do our part to protect ourselves and others on the road.