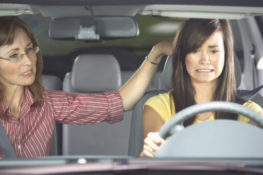 It is the moment your teen has been waiting years for, and the moment you have been dreading. It's an exciting time in their life, as learning to drive is a passage right into adulthood, but it's equally scary for parents sending their child out on the McAllen, Texas roads for the first time alone. If you're nervous about your teen driving, you aren't alone. The CDC reports that car accidents are the leading cause of death for teenagers in the United States. So what can you do to help your teen stay safe? Check out these tips to help keep your child safe when you're preparing to hand over your keys.
Set a good example for your teen
Your child mimics just about everything you do, so safe driving starts with you. Don't do anything while driving that you wouldn't want your child to do, including texting and driving, ignoring traffic signs, and speeding. Don't forget to buckle up!
Prepare an emergency kit
If you've ever had a car problem, you know how frustrating it can be to open your trunk for supplies and come up empty-handed. Don't leave your teen stranded without any tools, pack an emergency kit ahead of time. Include a flashlight, first-aid kit, jumper cables, car jack, and a tire iron, just in case.
Give them some driving responsibilities
Sharing driving responsibilities is a great way to let your teen practice their driving skills close to home on familiar roads. Ask them to run errands for you like going to the store or picking up a sibling at school or from a friend's house. This way they will feel like they are contributing while having an excuse to be behind the wheel, and you will know where they are.
Watch the weather
As we all know, the weather here in the greater Rio Grande Valley can turn in an instant. Inclement weather brings more danger to an inexperienced driver, so keep an eye out for weather conditions before allowing your teen to drive. It is also a good idea to teach them how to drive in rain and snow before the weather arrives. Consider investing in a professional driving school to properly train them how to drive under all conditions.
Talk to them about the dangers of driving
In addition to drinking and driving, distracted driving is a huge danger for teenage drivers. Sit your teen down and explain to them how deadly distracted driving can be, and make sure they understand the consequences they will have to pay for drinking and driving.
Create rules and boundaries
Set up a contract with your teen that outlines your rules and boundaries, and the penalty for breaking them. This can include hours that they are allowed to drive, a passenger limit, and how far they can go from home or the McAllen area.
For more information about keeping your teen safe behind the wheel, visit //www.cdc.gov/motorvehiclesafety/teen_drivers/teendrivers_factsheet.html.