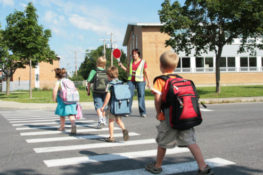 With August here, parents across the nation now find their attention turning once again to the impending start of the school year. As we get ready to send all of our young students back to school, we once again return to that timeless ritual of shopping for clothes and school supplies. Many of us will also get ready for those last summertime outings while we still have a little bit of summer family time to enjoy. Eventually, though, we won't be able to forestall the start of the school year, and we'll send millions of children off for another year of education. Before we do, there are some important back to school safety tips that we all need to remember.
Why Safety Matters
Many people wrongly assume that their children are completely safe when they send them off to school. After all, what could be safer than an environment in which children are monitored by responsible professionals for roughly one-third of each day? We tend to trust that we've hired the best bus drivers, teachers, and administrators so that everyone involved in the education process is equally committed to ensuring the safety of every child. For the most part, that trust is well-placed. Nevertheless, children are exposed to a variety of dangers at school each and every day – ranging from bullying and other crimes to accidents and the availability of drugs and alcohol. Just consider the following facts:
According to government studies, somewhere between one-quarter to one-third of all American students report that they have been the victim of bullying in their schools. Most of this bullying comes in the form of verbal abuse, and it tends to occur with greater frequency in middle school.
In 2013, roughly 30% of all male high school students and 19% of high school girls reported having been in at least one physical fight at school. The good news is that surveys indicate that the propensity for fighting decreases dramatically from a student's freshman year to his or her senior year.
1%-2% of school-age homicides occur at school or traveling to and from school-related events.
22% of high school students report that illegal drugs have been offered to them at least once while they were on school grounds. While that number has been on the decline, it still indicates that drug access remains a serious concern at the nation's schools. Moreover, a University of Michigan study from 2013 revealed that more than 36% of high school seniors reported using marijuana within the last year.
Even the journey to and from school can be risky. In the last thirteen years, 119 student pedestrians have perished in crashes involving school transportation, with almost two-thirds of those victims having been hit by school buses. In that same time period, 1,222 school transportation accidents occurred.
All of that paints a picture of a school system that is anything but completely safe. In addition to the potential for accidents both on and off grounds, bullying, violent crime, illegal drug access and use, and fighting remain threats to our children's safety. Even technology poses a threat, as things like cyberbullying and sexting continue to plague our children. Roughly 24% of all high school students report that they have engaged in sexting at one time or another – often as the result of pressure from a significant other.
Protect Children on the Roads
The Texas Department of Transportation offers some important back to school safety tips that can help make our children safer on the roads to and from school. With 663 crashes occurring in school zones over the course of the last year, these tips are more important than ever:
Always use the designated pickup and drop-off zones when driving children to and from school.
Never use your cell phone in a school zone. It is against the law and could result in a heavy fine.
When driving in school zones, be cognizant of children who might be crossing or walking between vehicles. Obey the reduced speed limits in these areas.
Teach your children to look both ways before they cross the road, and to always use the correct crosswalks. Instruct them to obey the instructions given by crossing guards.
If children are riding bicycles to school, make them wear helmets.
Talk to Your Children about Violence and Peer Pressure
Schools can be stressful environments, and fighting and other forms of violence can occur. At the same time, however, it is important to ensure that your child understands that there is no need to live in fear at his or her school. While the statistics might seem high when it comes to fighting and peer pressure-related problems, serious injuries and deaths are rare. With that said, you should have a serious conversation about violence and peer pressure.
Impress upon your child the need for showing everyone at his or her school – classmates and teachers alike – the respect they deserve.
Talk to your child about bullying, and make sure that he understands that adults need to be informed when this type of activity takes place.
Maintain open lines of communication so that your child feels comfortable letting you know that someone has offered illegal drugs at school.
Teach your children to respect technology. Sexting, cyberbullying, and other types of tech abuse need to be avoided. You might also want to consider monitoring your children's use of cell phones and computers to gain insight into how they use technology. Though you may be reluctant to intrude in their private affairs, children need this oversight.
In a perfect world, children would never be at risk in seemingly safe environments like schools. The reality is, however, that the nation's children face a variety of different risks each day. By following these tips and helping your children to make sound decisions, you can help to keep them safe from many different types of harm. If your child does suffer harm due to an accident, violence, or other harmful events, be sure to seek the assistance of an experienced personal injury attorney to discuss your options.