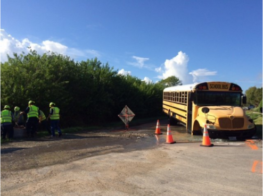 A sinkhole in Flour Bluff caused one school bus to get stuck, damaging a water line in the process. The bus driver had driven around a cone that was placed on the road when the ground beneath collapsed. Luckily the bus driver was the only one on board. Police reported that the water department was called out to the scene where crews spent most of the morning trying to get the buses' front tires out of the sinkhole. Thankfully, no one was injured.
According to Caller-Times, there had been a water leak earlier in the day which is why the area had already been barricaded. The city's water department distribution superintendent, Michael Olivarez, stated that the residents surrounding the area were not affected by the water leak or the sinkhole.
A sinkhole is a cavity in the ground, or a depression, due to water erosion which causes the surface layer to collapse. According to a geological survey, sinkholes are very common in the world including the United States. Particularly in Texas, Alabama, Missouri, Kentucky, Tennessee, Pennsylvania, and Florida.
Whether natural or man-made, sinkholes are dangerous, especially when they occur in heavily populated areas. They can cause not only structural damage to buildings but can also damage human life. Toxic chemicals can rise up from beneath the earth and pollute groundwater. Most of the time they form slowly that you can't notice a change, but if they form fast and without warning, the results can be major. Although sinkholes are very serious and can be devastating, deaths are very rarely associated with them.
There are different types of sinkholes:
Dissolution sinkholes – This is where dissolution of the limestone is most intensive, where the water first contacts the rock surface. It's most aggressive in pre-existing openings in the rock.
Cover-subsidence sinkholes – These develop gradually where the covering sediments are permeable, allowing liquids or gases to pass through it, and contain sand.
Cover-collapse sinkhole – These are catastrophic and form abruptly over a period of hours occurring where the covering sediments contain a significant amount of clay.
Human-induced sinkhole – land-use practices have been correlated with the emergence of new sinkholes. Groundwater pumping, construction, and development practices are all causes of human-induced sinkholes. This includes when new water-diversion systems are developed, and runoff-storage ponds are created.
What is happening is that people are spreading across the globe and moving to new areas susceptible to them. With changing events in the weather due to climate change, such as flooding and hurricanes, it is very likely that we can see an increase in them over the next few years.
If you have been injured, please contact an attorney at Herrman and Herrman, P.L.L.C., to schedule a free consultation. Visit our office at 1201 Third St. or give us a call at 361-792-2358.