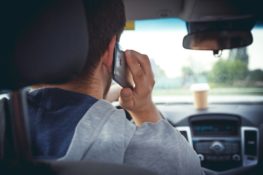 The Eyes of Texas are straying from the road ahead and getting far too many people killed and injured in distracted driving accidents.
The Texas Department of Transportation (TxDOT) says distracted driving continues to be a problem in Texas. For more than four years, nearly one in five crashes in the Lone Star State has involved distracted driving. Distracted driving causes hundreds of deaths each year in Texas among those who drive distracted and among innocent people whom distracted drivers crash into.
Distracted driving is any activity that takes your attention away from driving. Distractions while driving can include anything from texting and talking on a cell phone to eating and drinking, putting on makeup, shaving, reading, programming a navigation system, watching a video and adjusting the radio or an iPod.
When a driver takes their eyes off of the road for 5 seconds at 55 mph, it's like driving the length of an entire football field with their eyes closed, the National Highway Traffic Safety Administration (NHTSA) says.
In April 2019, NHTSA reported that:
Nine percent of fatal crashes in 2017 were reported as distraction-affected crashes.
In 2017, there were 3,166 people killed in motor vehicle crashes involving distracted drivers.
Six percent of all drivers involved in fatal crashes were reported as distracted at the time of the crashes.
Eight percent of drivers 15 to 19 years old involved in fatal crashes were reported as distracted. This age group – teenage drivers – has the largest proportion of drivers who were distracted at the time of fatal crashes.
In 2017, there were 599 nonoccupants (pedestrians, bicyclists, and others) killed in crashes related to distracted driving.
How Many People Die from Distracted Driving?
In 2018, there were 540,561 motor vehicle crashes on Texas roadways, according to TxDOT. Of those, 95,572, or 17.6 percent, were caused by distracted driving (driver distraction, inattention or cell phone use). The 95,572 distracted driving crashes resulted in 394 deaths and 2,340 serious injuries.
There were 537,970 motor vehicle accidents reported in Texas in 2017, of which 100,798 (18.7 percent) were crashes caused by distracted driving.
TxDOT says there were 449 people killed in distracted driving accidents in Texas in 2017. That figure is not only 12 percent of the 3,721 motor vehicle traffic fatalities in Texas in 2017, it is 14 percent of the 3,166 distracted driving fatalities nationwide in 2017.
Some of the local distracted driving statistics from 2017 are just as disturbing. Consider the facts from Texas counties where Herrman & Herrman has offices and in other large urban areas of Texas:
County / City
Motor Vehicle Accidents*
Distracted Driving Accidents
Distracted Driving Fatalities
Bexar County

(San Antonio)

50,536
24,021 (47.5% of total)

45 crashes, 46 deaths
Cameron County (Brownsville)
7,015
477  (6.7%)
5 crashes, 6 deaths
Hidalgo County (McAllen)
14,334
1,340  (9.3%)
6 crashes, 6 deaths
Nueces County (Corpus Christi)
9,495
606  (6.38%)
6 crashes, 6 deaths
Houston County (Houston)
272
56  (20.5%)
2 crashes, 2 deaths
Dallas County

(Dallas)

50,627
6,142 (12%)
18 crashes, 20 deaths
Travis County

(Austin)

Texas (total)

19,481

537,970

5,555 (28.5%)

100,798 (18.7%)

19 crashes, 19 deaths

403 crashes, 449 deaths
*Numbers are from Texas Peace Officer's Crash Reports (CR-3) received and processed by the TX DOT as of April 20, 2018.
Does Our State Do Enough to Prevent Distracted Driving?
Texas took a step toward curbing distracted driving when it adopted a ban on reading, writing or sending electronic messages while driving that went into effect on Sept. 1, 2017. A first violation of the law is punishable by a fine up to $99, and subsequent offenses carry a fine up to $200. Local ordinances may be more restrictive.
Drivers under 18 years old were already prohibited from all cell phone use while driving, including hands-free, under Texas law, except in emergencies. Additionally, drivers cannot legally use hand-held cellular devices while driving in school zones, and school bus operators are prohibited from using cell phones while driving if children are present.
Does Texas do enough to prevent distracted driving? A June 2019 news release from TxDOT says "The statewide texting-while-driving ban could be helping a little."
According to the news release, recent data show that "the number of crashes involving distracted driving in Texas decreased by 6 percent when comparing the 12-month periods before and after the statewide texting-while-driving ban took effect on Sept. 1, 2017."
According to TxDOT, 109,658 traffic crashes in Texas in 2016 involved distracted driving, which is 19.8 percent of 552,741 total crashes in 2016. Those crashes resulted in 455 deaths and 3,087 serious injuries.
So, from 19.8 percent of car accidents involving distracted driving in 2016, we've seen the rate of Texas motor vehicle accidents involving distracted driving fall to 18.7 percent in 2017 and 17.6 percent in 2018, according to TxDOT.
The June news release was written to announce It Can Wait, a new public awareness campaign kicking off June 4 in collaboration with AT&T to educate Texans about the dangers of driving while distracted. Campaign activities include a 12-city, virtual reality experience tour, social media, and audio and video/television PSAs.
Does Texas Need a Universal Ban on Phones Behind the Wheel?
A study published in February 2018 in the Journal of Adolescent Health suggests that a universal ban on hand-held cell phone use is more effective than just banning texting while driving or aiming prohibitions at teenage drivers. The study's authors said universal texting bans have not fully discouraged teens from texting while driving. Bans limited to just young drivers were not effective in reducing either hand-held conversations or texting.
"Our study shows that universal bans of hand-held cell phone calls while driving can be effective in reducing teens' hand-held conversations while driving, but texting bans are not effective in reducing texting while driving," said Motao Zhu, MD, MS, PhD, the study's lead author and principal investigator in the Center for Injury Research and Policy at Nationwide Children's Hospital. "Nearly all states ban texting while driving; however, these bans are not effective. More states should implement hand-held cell phone bans, which have been proven to discourage hand-held cell phone conversations while driving."
Even with laws in place, about one-third of teen drivers still talk on the phone and text while driving, the Nationwide Children's Hospital researchers found.
And, as drivers raised with cell phones age, their reliance on video screens is apparently becoming a part of their driving habit. A study published in JAMA Pediatrics in May 2019 says millennials (born from 1981 to 1996, and averaging age 33 at the time of the survey) who are parents are much more likely than older parents (44-year-olds, on average) to read or write texts while behind the wheel.
The National Conference of State Legislatures (NCSL) says that as of May 2019, 19 states —Arizona, California, Connecticut, Delaware, Georgia, Hawaii, Illinois, Maryland, Minnesota, New Hampshire, New Jersey, New York, Nevada, Oregon, Rhode Island, Tennessee, Vermont, Washington and West Virginia — and Washington, D.C. have banned hand-held phone use by all drivers. Only Montana has no ban on texting while driving; Missouri prohibits drivers 21 years old and younger from texting while driving.
6 Tips for Avoiding Distracted Driving
Here some ideas to help you avoid distracted driving, which are adapted from recommendations by the AAA Auto Club, Geico insurance and Travelers insurance:
Finish before driving. If you have something to do, someone to contact or any task that is important to you, take care of it before getting into the car. Anytime you think, "I'll do it in the car," you're making a potentially deadly mistake.
Get set before going. Before you move your vehicle, first adjust the seat, mirrors, heat/AC, etc. Check weather and traffic apps. Enter your destination in a GPS or maps app. Choose a radio station or playlist and start it before moving.
Stow your phone. Turn off your phone or any other electronic devices and put them out of your reach. Stow other loose cargo, too, so it does not move and create a distraction (or become a safety hazard) during a sudden stop, sharp turn, acceleration, etc.
Secure kids and pets. Young children belong in child safety seats, and pets belong in carriers when you are driving. Take care of their needs (e.g., food, bathroom) before starting even a short trip.
Don't be a distraction. Don't call or text anyone when you know they are driving. If you are a passenger in a vehicle, don't distract the driver by engaging them in excessive conversation, asking questions that require detailed explanations or asking them to do or "look at" anything for you.
Don't be afraid to stop. Pull over for a minute to take care of whatever it is that cannot wait. Pull into the next parking lot or take the next exit and find a safe place to stop. If it is not important enough to stop for, it is not important enough to risk your life for.
Laws act as deterrents but, in the end, we are all responsible for our own actions. The best way to avoid a distracted driving accident is to keep your eyes on the road ahead and to check your mirrors as you drive. Don't drive distracted, and don't fail to see someone who is about to cause an accident because they are distracted.