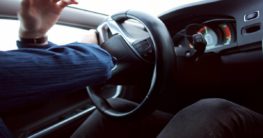 If you're looking for a new motor vehicle, safety has got to be one of your top concerns. Safe cars are more reliable in all weather, and have a lower chance of breaking down unexpectedly. Thus, a safe car that has been highly rated by the Institute for Highway Safety (IIHS) will last you longer and give you peace of mind when you're behind the wheel. 
After crash tests and other safety feature evaluations, here are this year's top safest cars as determined by the IIHS.
From Mazda:
Mazda has probably made some of the safest and best "bang for your buck" vehicles of the year. The top safety picks from Mazda include the Mazda6, the Mazda-CX5, and the Mazda-CX-3. All of these vehicles have been found to have some of the best safety features in cost-accessible car manufacturing.
From Subaru:
Subaru also had some top safety picks this year. They include the Subaru Outback, the Subaru Forrester, and the Subaru Crosstrek Hybrid. Subaru has long been known for creating vehicles that are cost-effective and ideal for outdoor lovers and nature enthusiasts who love to take their cars to the woods or mountains. 
From Honda:
Honda made the list of top safest cars of 2020 as well. Their Civic Coupe, Civic Hatchback, CR-V, and Accord are all on the list and make great options whether you are a new driver or have been driving for many, many years.
From Toyota:
Toyota's on the list of top safety cars for 2020 with a number of their tried-and-true vehicles. The Toyota Camry, Toyota Corolla sedan and Toyota Corolla hatchback all made the safety list. For fans of larger or more sport utility-style vehicles, the Toyota Rav4 is also on the list of safest cars.
From Luxury Vehicle Makers:
The majority of top safety cars on the list for this year come from luxury automakers. They include cars from Audi, Lexus, Genesis, and Mercedes-Benz. These cars may be great options that will last a long time if you have the funds to make the investment.