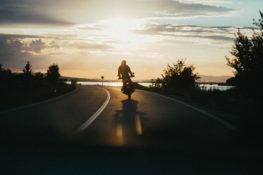 Motorcycles can be an exhilarating and stylish way to get around, but unfortunately, they can also be incredibly dangerous without the proper training and equipment. Taking a motorcycle cruise through scenic locales like mountains and beachy highways has become a popular way to spend time outside, but without the right safety measures, you could make a fatal misstep. If you want to learn the best ways to stay safe while you're out on your motorcycle, here are the top six motorcycle safety tips.
1. Get Licensed to Ride
Before you mount your motorcycle, make sure you're licensed to ride. Taking a motorcycle certification course can get you acquainted with how to ride your motorcycle safely on the road.
2. Get a Motorcycle You're Comfortable With
Make sure that whatever motorcycle you're riding, you're comfortable with. That means taking a few test drives and making sure that the fit of the motorcycle and its size are properly suited to your frame and that you understand where all the controls are.
3. Always Wear Appropriate Safety Gear
This should go without saying, but you need to wear appropriate safety gear when you're going out on a motorcycle. Get a proper helmet, a full leather jacket, and long protective pants. You may also want some motorcycle boots made of protective material and some sunglasses to keep the sun out of your vision.
4. Follow Traffic Rules
Abiding by all the same traffic rules that other motorists must follow will keep you safe and keep others safe. Don't put anyone in harm's way by swerving through traffic or blowing through stop signs and lights.
5. Don't Ride Under the Influence
Never, under any circumstances, ride your motorcycle under the influence of drugs or alcohol. These can impair your judgment and your riding and could cost you your life.
6. Familiarize Yourself With What to Do If Something Goes Wrong
We don't like to think about the worst-case scenarios, but sometimes, it's necessary. Ensure you understand what to do if you are in an accident, including tending to your injuries, recording details of the accident, reporting it to local authorities, and finding proper personal injury lawyers in your area if needed.
Contact Herrman & Herrman P.L.L.C. at 361.882.4357
Our firm is equipped with over 100 years of combined experience handling personal injury cases across Texas. Our outstanding record of favorable settlements and verdicts includes over 20,000 successfully resolved cases. Once we take on a case, we are relentless, and you can rely on us to pursue full compensation for you.
You can trust our attorneys to be compassionate and professional.
We will fight hard to obtain a fair settlement for you.
Our firm represents the injured and families who have lost a loved one due to others' negligent acts.
We serve as counsel in a range of injury cases – including car, truck, motorcycle, bicycle, pedestrian accidents, premises liability cases, product liability cases, and medical malpractice claims.
We have the ability to dispatch the Herrman & Herrman Accident Investigative Team to the crash scene to start an investigation and preserve critical evidence.