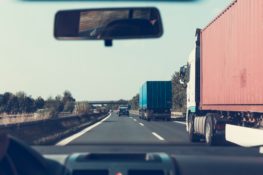 Current trends in truck driving have pointed towards the possibility of there being a trucker shortage by 2024. This means the trucking industry must react to this upcoming shortage by hiring more truck drivers every year. While this may not seem like a workforce trend that should or would affect your life in any way, you may be wrong. A lack of truckers and scramble to get more may actually cause more accidents on the road. Curious how this could be? Here's what you need to know about how the truck driver shortage could affect you.
How Can a Trucker Shortage Cause Auto Accidents?
When trucking companies face a shortage of drivers, they may start hiring more inexperienced or poorly trained drivers. An inexperienced driver without proper training can increase the possibility of that driver causing an accident on the road. If the trucking companies aren't hiring many new truckers, it doesn't mean the threat of more accidents is gone. The existing workforce of truckers could become overworked, fatigued, or start driving even if they feel unwell. This could also cause more accidents, as the drivers would not be in the best shape to drive.
Who is Liable for Truck Accidents?
Proving liability on the trucking company for a truck accident caused by one of the situations described above is not always easy. Additionally, trucking accident liability may involve the truckers themselves, the trucking company, and the manufacturer of the products that the trucker is transporting. Of course, liability also depends on the accident's direct cause and the facts of the incident.
What Should I Do if I've Been in a Truck Accident?
If you have been in a truck accident, make sure you try to record your crash details as well as possible. This could include written accounts, witnesses, photos, and more. It would be best if you also kept tabs on the costs you've incurred due to your truck accident, as an experienced trucking accident and personal injury attorney may be able to help you get compensated for those costs through legal action.
Contact Herrman & Herrman P.L.L.C. at 361.882.4357
Our firm is equipped with over 100 years of combined experience handling personal injury cases across Texas. Our outstanding record of favorable settlements and verdicts includes over 20,000 successfully resolved cases. Once we take on a case, we are relentless, and you can rely on us to pursue full compensation for you.
You can trust our attorneys to be compassionate and professional.
We will fight hard to obtain a fair settlement for you.
Our firm represents the injured and families who have lost a loved one due to others' negligent acts.
We serve as counsel in a range of injury cases – including car, truck, motorcycle, bicycle, pedestrian accidents, premises liability cases, product liability cases, and medical malpractice claims.
We have the ability to dispatch the Herrman & Herrman Accident Investigative Team to the crash scene to start an investigation and preserve critical evidence.