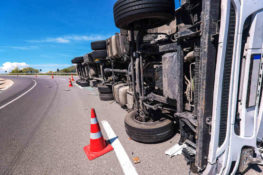 A semi-truck or commercial truck collision often proves catastrophic for other motorists involved in the accident. The sheer size and weight of trucks, combined with the fact that many semi-truck collisions occur at highway speeds, means that the occupants of smaller vehicles tend to suffer the brunt of injuries from the force of the collision. If your truck accident was caused by a truck driver's carelessness or disregard for safety, you deserve full monetary compensation for your injuries.
After a semi-truck accident in Brownsville, you need an experienced truck accident attorney who can help guide you through the time-consuming effort to investigate the accident and pursue a claim for compensation for injuries and damages.
At Herrman & Herrman, our Brownsville truck accident lawyers can provide you with the compassionate, focused legal representation that you and your family deserve. We have a bilingual staff to serve both the English- and Spanish-speaking members of our community. We are honored by the numerous clients who have left positive reviews of our firm across Facebook and Google.
If you give us a call from the scene of the truck accident, we can dispatch our firm's Accident Investigative Team to come to the accident scene to conduct a thorough investigation and begin preserving critical evidence we may need to pursue your claim, including driver's logs, truck data recorders, and truck maintenance records. We understand how important it is to preserve evidence in a truck accident case.
After a Brownsville truck accident, schedule a free case review with the personal injury attorneys of Herrman & Herrman to learn about the financial recovery you may be entitled to seek following your accident. Give us a call at (361) 882-4357 or fill out our website's contact form today.
Types of Semi-Truck Accidents
 Some of the most common examples of semi-truck accidents and collisions include:
Head-on collision: Head-on collisions usually occur when both the truck and other vehicle are traveling at speed. These accidents typically occur when one vehicle veers into an oncoming lane of traffic or when a truck driver gets lost on a route and ends up driving the wrong way down a one-way street or highway on-ramp.
Rear-end collision: A rear-end collision involves a truck colliding into the back of another vehicle, typically because the truck driver was speeding or was following too closely. Heavy trucks take longer distances to stop safely, so rear-end truck accidents occur regularly.
T-bone collision: Side impact accidents or T-bone accidents, as they are often called, involve the front of a truck colliding with the side of another vehicle. These accidents often occur when a truck driver fails to stop at a stop sign or red light or when the driver fails to yield, including when turning.
Side-swipe collision: Side-swipe collisions involve contact between the sides of two vehicles. These accidents occur when a truck driver makes an unsafe lane change or drifts into an adjacent lane. These accidents also happen when a truck driver takes a wide right turn and veers into an adjoining lane of traffic.
Underride accident: An underride accident involves a smaller vehicle sliding under the back or side of a semi-truck, due to the height difference between truck and passenger vehicles. These accidents can cause catastrophic or fatal injuries.
Tire blowout: Given the miles that big rigs travel, truck tires take a great deal of wear and tear and must be replaced regularly. Lack of maintenance or a tire blowout may cause the truck driver to lose control of his or her vehicle and collide with other vehicles.
Jackknife accident: A jackknife accident involves a trailer of a semi-truck swinging forward toward the cab of the truck. Jackknife accidents typically occur due to improper braking by the truck driver, especially in poor road conditions, or due to unsecured or unsafe cargo loads that can cause the back of the trailer to swing out.
Rollover accident: A truck driver can lose control of his or her vehicle due to speeding, failure of components, a tire blowout, or an unsafe or unsecured load shifting during travel. That can lead to the entire vehicle tipping over, leading to impacts with other vehicle or releasing the truck's cargo, which may hit other vehicles on the road.
Cargo-related accident: A cargo load that isn't properly secured may spill out onto the road, impacting other vehicles or setting off a chain reaction collision.
Truck accidents often have complex causes that require a thorough investigation to identify. It is important to seek the services of a Brownsville truck accident lawyer who has handled truck accident cases and understands the types of evidence to seek.
Recent Brownsville Semi-Truck Accidents
Some recent semi-truck accidents that have occurred around Brownsville include:
In July 2019, a van carrying two Brownsville families on a trip to Galveston was struck in the side by an 18-wheeler, causing the van to careen into the opposing lane of traffic on the highway and collide head-on with an oncoming pickup truck, killing all the occupants of the van
Another accident in June 2020 occurred on State Highway 4 when a semi-truck reversed onto and over the grassy median of the highway, causing a pickup truck to collide with the rear of the trailer, killing the driver and injuring the other passengers of the pickup.
Contact a 18-Wheeler Truck Accident Lawyer Today
 If you or a loved one has been injured in a truck accident in Brownsville, Texas, contact an experienced, semi-truck accident lawyer at Herrman & Herrman today to schedule a free, no-obligation initial consultation. Our attorneys will review the details of your accident and discuss your legal rights to recover financial compensation. Call our firm at (361) 882-4357 or fill out the contact form on our website to get in touch with us and set up your consultation.