Many reports about distracted driving point out that turning to talk to or interact with a passenger is a common distraction that poses the risk of a car accident. In many cases, that passenger is of the four-legged variety.
A survey by the AAA Foundation for Traffic Safety and a pet travel products company found that more than half of the people who responded to the survey had taken their dog with them while traveling at least once in the prior year. The survey also says nearly one quarter (23 percent) of pet owners had held their dog in place while applying brakes and 19 percent had used their hands or arms to keep their dog from climbing into the front seat.
Think for a moment about what it takes to stop a dog from climbing and the fact that a car going 55 mph covers 100 yards in about 5 seconds. The AAA Foundation says looking away from the road for only 2 seconds doubles your risk of being in a crash.

But there's plenty more in the AAA survey. Drivers admitted to:
Reaching into the back seat to interact with their dog (18 percent)
Allowing their dog to sit in their lap or holding their dog (17 percent)
Giving their dog food or treats (13 percent)
Taking a photo of their dog while driving (3 percent).
If you've been in a car accident and the other driver has a dog (or another pet) in their vehicle, you need to ask questions about whether the driver's pet was in a pet crate or was causing a distraction. Take note of whether there was a pet carrier in the car.
Some states have laws requiring pets to be restrained while in motor vehicles. Texas is not currently one of them.
In addition to being a potential distraction and causing accidents, pets can be injured in motor vehicle accidents. Pets can also injure other passengers in a car crash.
AAA says restraint systems that utilize seat belts to limit a pet's ability to move and to mitigate crash forces are best to use. Padded harnesses with sturdy connectors and straps are available to connect to a vehicle's seatbelt or LATCH system.
Both hard- and soft-sided crates can be used in vehicles, but should always be strapped down, AAA says. Pet car seats or basket-style holders can be used with smaller dogs.
Dogs and other pets should remain in the back seat because the force of deploying airbags can cause fatal injuries.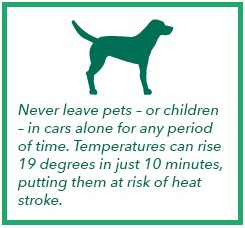 In addition, pets should not be allowed to hang out of open windows, State Farm Insurance reminds us.
Never leave pets – or children – in cars alone for any period of time. Temperatures can rise 19 degrees in just 10 minutes, putting them at risk of heat stroke.
Packing items to make your dog comfortable while traveling, like a blanket or towel he or she sleeps with and her usual food, will make your pooch less antsy and calmer as she rides along with you
Pets Hurt in Car Accidents


If the worst has happened, and you have been in a car accident that has hurt or killed your pet, remember that this loss should be a part of your insurance claim. Your pet's injury would be viewed as property damage. If a negligent driver caused the wreck, you could seek compensation for your pet's veterinary bills.
In most cases, a claim would seek compensation equal to what would be required to replace a pet that had died in a car accident. Unfortunately, your emotional attachment would not be considered. If an animal killed in a motor vehicle accident was an earner, such as a prize-winning show dog, those losses could be considered in a claim. The loss of a working animal with specialized training would also warrant seeking additional compensation.

The car accident attorneys of Herrman & Herrman can help if you or a loved one has been injured in a crash in the Corpus Christi / McAllen, Texas, area. You deserve compensation for legitimate losses that were not your fault, and we'll work hard to make sure you get it. Call 361-882-4357 to schedule your free consultation today!