SAN ANTONIO, TX – The driver of a white Ford truck ran away from the vehicle after crashing into a car and injuring the driver Thursday night.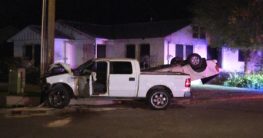 The San Antonio Police Department is searching for the driver of a white 2006 Ford F-150 who crashed into a 2018 Nissan Frontier at the intersection Tabor Avenue and West Burcham Avenue. KSAT reports that the accident occurred on April 6 at approximately 11:00 p.m., when the truck driver ran a stop sign at the intersection.
The collision caused the Nissan to drive onto the curb and rollover. The 36-year-old driver exited the vehicle with the help of EMS personnel. At the time of the accident, the Nissan's driver told EMS that she did not need to go to the hospital. However, later in the evening, the driver checked into the Mission Trail Baptist Hospital with minor injuries.
After the accident, the white Ford crashed into a nearby retaining wall and sustained significant damage. The driver then exited the vehicle and ran away from the scene of the accident. The driver did not speak with or assist the woman in the over-turned Nissan before leaving.
Police officers are still working to locate the Ford's driver, who will be charged with failing to stop an assist after the accident.
Disclaimer: The San Antonio car accident attorneys at Herrman and Herrman provide up-to-date accident information to help protect our community. We hope that this article will help you stay informed and keep yourself and your loved ones safe. This article is not intended to provide medical or legal advice. If you were hurt in a hit and run accident and need legal counsel, contact Herrman and Herrman today