SAN ANTONIO, TX – The San Antonio Police Department arrested a driver who crashed into three vehicles at the intersection of Bandera Road and Callaghan Road on Wednesday morning.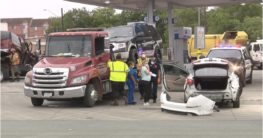 KSAT reports that the suspect was driving erratically near the intersection at approximately 9:15 a.m. on May 13. The suspect's silver compact car hit three other vehicles on the road and then rolled over.
The driver left his vehicle after the accident and tried to run away from the scene. However, the police were able to capture the suspect.
One woman in a white sedan sustained minor injuries from the accident. She received medical attention on the scene, and she was not transported to the hospital. The police report no other injuries from the accident.
The driver who caused the accident is currently under arrest. At this time, the police have not released what charges the driver is facing.
Disclaimer: The San Antonio car accident attorneys at Herrman and Herrman provide up-to-date accident information to help protect our community. We hope that this article will help you stay informed and keep yourself and your loved ones safe. This article is not intended to provide medical or legal advice. If you were hurt in a car accident and need legal counsel, contact Herrman and Herrman today.