CORPUS CHRISTI, TX – Three teenagers were arrested early this morning after crashing a stolen vehicle at the intersection of Yorktown and Waldron Road. According to Kris 6 News, the teenagers fled the scene around 7 a.m. but Corpus Christi Police were able to apprehend two of the juveniles within minutes. One of the teenagers was brandishing a gun, but police were able to safely get the gun away from him.
The third teenager was able to escape police custody at the time, but he was apprehended around 9 a.m. thanks to help from drone surveillance and local firefighters. All three teens were taken to the Nueces County juvenile justice center.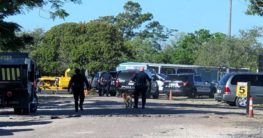 Police have not released any further information about the stolen vehicle or if any of the boys were injured in the car accident. Our team will monitor the story and update you when we have more information.
Disclaimer: The Corpus Christi Accident Lawyers at Herrman and Herrman provide up-to-date accident information to help protect our community. We hope that this article will help you stay informed and keep yourself and your loved ones safe. This article is not intended to provide medical or legal advice. If you were hurt in a pedestrian accident and need legal counsel, contact Herrman and Herrman today.