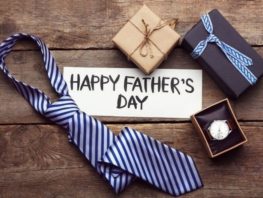 Father's Day is just around the corner, it's the perfect time to get creative & connect to those you look up to. This year will be a Father's Day like few others. The COVID-19 pandemic may be easing for some areas, but life has not yet returned to normal. And while some traditions will not be possible — baseball games, concerts, a trip to the pool — we've put together a list of some things you still can do with Dad!
Enjoy your Father's Day weekend!
Fire up the backyard grill 
There's no greater way to get to a Dad's heart than the word "barbeque". Grab extravagant meats like a rack of ribs or wagyu beef burgers and have Dad go to town.
Create your own brew
Transform Dad into a beer connoisseur and help him create his own beer. Look up brewing kits on Amazon or see what materials you need and watch the bubbles pour!
Pamper Dad with an in-house spa day
Contrary to popular belief, Dads can also enjoy the relaxing benefits of a spa day. Grab some sheet masks from your nearest drug store or pamper Dad with an in-home massage.
Listen to old records
Dust off your record player and get ready to be transported back into time. This is a great bonding tool for Dad and the kids to show them the type of music he was into growing up.
Plant a family garden
Now more than ever, more families are thinking about growing their own food. See what it takes to plant as many vegetables and other produce you can grow in your own backyard.
Play old video games
Grab the old video games like Crash Bandicoot, Spyro the Dragon, or the Mario Brothers and have Dad teach the kids how to tackle challenging levels. It is sure to be a Father's Day to remember!
Play mini-golf 
If Dad is a regular Tiger Woods, consider turning your backyard into a mini-golf course. Use bricks, cinderblocks, and 2x4s to create obstacles!
Cook something adventurous
If some of Dad's role models include Anthony Bourdain and Gordan Ramsey, consider thinking outside the box and create a meal with something you wouldn't usually go for like bison burgers or grilled octopus tentacles. Tackling a complex recipe may seem challenging but the memories and the meal will be worth it!
Gather loved ones on FaceTime
During this time of uncertainty, being with loved ones (even virtually) is important now more than ever. Privately message Dad's family, friends, and loved ones, and surprise him with a Zoom meeting or FaceTime call.
Make your own BBQ spice rub 
Elevate Dad's cooking by helping him create his very own signature BBQ spice rub. Find recipes on the Internet or be adventurous and make your own!