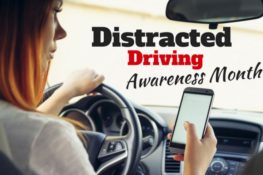 Distracted driving is one of the most serious issues affecting public health across the nation, including in the State of Texas. Drivers who text while driving, are engaged in cell phone conversations, answering emails, eating, daydreaming or paying attention to activities within the vehicle pose a risk to everyone else who shares the road.
The numbers of serious or fatal accidents caused by distracted driving are shockingly high, and all of these crashes are completely avoidable. Distracted Driving Awareness Month is the time to have the conversation, and to make a change in your personal driving habits for the safety of yourself, your family and others on the roadways.
The National Safety Council reports that 80 percent of American drivers think that it is safer to use a hands-free device for cell phone calls while driving. They report more than 30 studies indicate that hands-free devices are actually no safer than a hand-held cell phone for driver distraction.
The underlying issue is that the driver is experiencing "cognitive distraction." The driver's mind is focused on the subject of the call, whether occurring on a hand-held device or on a hands-free device. You can read more about the "hands-free myth" issued by the same agency. The data reveals that while a driver is engaged in a cell phone call, he or she can miss up to half of what is occurring outside of the vehicle, including traffic lights, stops signs, pedestrians or road hazards.
Have a Conversation about Distracted Driving
It is time to have the conversation with your family about the risks of distracted driving, and take advantage of Distracted Driving Awareness Month to make a pact within your family to change your driving habits. Avoiding cell phone use is a critical point, but it is not the only type of distracted driving that can lead to serious injury or death. All forms of distracted driving should be discussed, including eating, grooming, engaging with passengers, and adjusting in-vehicle systems. You can save a life – possibly your own, or that of your child or other loved one.
The statistics on distracted driving accidents in Texas prove the point about the dangers of distracted driving.
According to the Texas Department of Transportation, in 2015 there were 105,783 crashes caused by distracted driving, with 476 fatalities and 3,104 incapacitating injuries.
Help us tackle the issue by getting involved. Share these with your friends and remind them, if you're texting, you're not driving.
Help With a Car Accident Injury Case in Corpus Christi
Connect with Herrman & Herrman, a car accident injury law firm located in Corpus Christi, Texas, if you or a loved one has been the victim of a distracted driver. We will help you seek justice and compensation for all damages. Call now at 361-882-4357 to schedule your free consultation today!
Sources: