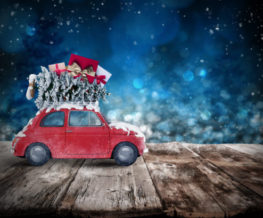 The holidays can be a very stressful time of year for those traveling on the road. Whether you are traveling near or far, it is important to keep in mind these basic safety tips to ensure you arrive safe and enjoy this wonderful time with friends and family.
Get Plenty of Sleep
The National Sleep Foundation recommends for us all to go to sleep at the same time every night and to rise at the same time each morning. This promotion of regular sleep in known as sleep hygiene. They also recommend sleeping in a quiet, dark, and relaxing environment. And most importantly, avoid large meals before bedtime!
Child Passenger Safety
Make sure all passengers are buckled in. Also, make sure that all children are in a size-appropriate car seat. Data has shown that booster seats can reduce the risk of serious injury in children ages 1 to 4 by 45%., according to the Center for Disease Control. Also, car seats reduce the risk of death in car crashes by 71% for infants. So buckle up!
Designate a Driver
Use a designated driver to ensure guests make it home safely after a night of holiday partying. Also, while on the road, be sure to switch drivers on long trips so that every driver is alert and aware of the road ahead.
Do Not Be Distracted
Put the cell phone down! Distracted driving accounts for one-quarter of all crashes. Don't be a statistic and put the phone away. If you are traveling alone stop at a gas station or rest stop to check your map or make a call. Otherwise simply give phone duty to another person in the car.
Be Prepared
Be prepared for heavy amounts of traffic. The holiday season is the highest time of the year in road travels and traffic accidents. Plan ahead and take alternate routes or longer, safer routes avoiding heavy traffic roads. Bring flashlights, matches, extra cell phone, food, and other necessities in the case of a blowout or if caught in a snowstorm.
If you have been injured due to the negligence of another, please contact the personal injury law office of Herrman & Herrman to speak with an experienced attorney. Call 361-792-2358 to schedule a free consultation today!