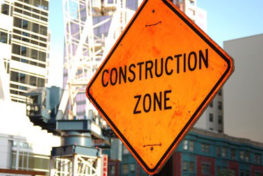 Even though summer is rapidly drawing to a close, road construction continues throughout Texas and across the nation. Those ostentatious orange cones often seem like they're everywhere this time of year, and it's easy for drivers to become frustrated by traffic delays, rough driving surfaces, and other conditions that take much of the joy out of automotive travel. Of course, it's also easy for some drivers to become so accustomed to driving through construction zones that they lose sight of the special dangers that any construction site can present. There are some important safety tips you need to remember while driving in construction zones. Your safety and the safety of everyone else on the road may depend on your awareness of the dangers and your ability to navigate them without an incident.
Is it Really That Dangerous?
According to some estimates, roughly 40,000 injuries take place in construction zones on the nation's highways – and the problem has been getting worse in recent decades. Overall, the increased amount of funding provided by the federal government in the last two decades – funding that has resulted in a 40% increase in the amount of regular road construction – has been met with a rise in the accident rate. Worse, fatal crashes within construction zones are 26% higher today than they were in 1997. And all of those crashes add up to longer delays on the road, which often lead to more accidents.
Perhaps even more alarming is the fact that hundreds of those construction workers you see laboring on the nation's roadways end up being killed each year in job-related traffic accidents. Texas is certainly not immune to these tragedies, as fatalities in the state's construction zones – including workers, drivers, and passengers – occur with stubborn frequency. According to the state's Department of Transportation, most of those fatalities occur on weekdays over the summer months. For construction zone workers across the state of Texas, speeding traffic is the number one cause of worker injuries and fatalities.
So, how bad is the situation in Texas when it comes to injuries and deaths in these zones? As it turns out, the numbers are probably worse than you might assume. Every year, construction and maintenance zones see some 15,000 crashes take place, resulting in thousands of injuries and more than one hundred fatalities. According to the Texas DOT, much of that carnage is caused by drivers speeding through the zones – something that many experts say is common across the country.
Learning Essential Safety
One of the most frustrating things about these crashes is that they are all preventable. Drivers should know the rules for navigating through construction zones since they are clearly spelled out from the earliest days of driver education. In fact, Driver's Ed specifically addresses the dangers associated with construction zones and instructs young drivers to follow all posted signs and reduce their speed. Apparently, far too many drivers do precisely the opposite.
The Federal Highway Administration, as part of its effort to encourage safer driving in these dangerous construction zones, notes that the last five years have witnessed about 200,000 injuries as a result of traffic accidents within work zones. More than 4,400 drivers, passengers, and workers have lost their lives, with most of those deaths occurring in crashes at speeds in excess of 50 mph. Speed can kill in any driving condition, but when cars and trucks are already navigating through narrow lanes in continually changing conditions, the risks associated with a high rate of speed are magnified tremendously.
How Can You Be Safe?
The good news is that we know how to reduce these accident rates and save lives. All that is required is a greater commitment from all drivers to exercising better driving habits while in these dangerous sections of the nation's highways. These tips can help you to better manage your construction zone driving:
Minimize all your distractions. Turn off the radio and leave your phone alone. If the kids are acting up in the back seat, have them settle down until you are out of the area. Avoid conversations so that your full attention is on the road ahead of you.
Pay attention to brake lights. Many construction zone accidents involve rear-end crashes, so be alert to vehicles that suddenly stop in front of you. Be sure to leave enough distance between vehicles so that you can safely come to a stop.
Pay close attention to all relevant signs, and be alert to construction workers who may have instructions for you as you move through the area.
Slow down. Construction zones are areas in which you should expect to drive slower than normal. Typically, speed zone signs are posted, so be sure to obey the posted limits. Remember, fines can be doubled if you break posted rules while driving through these areas.
Merge properly. If you know a lane is closing up ahead, merge as early as possible to prevent a frustrating lane change later. Many accidents are the result of drivers forced into that situation because they thought they could gain a few precious seconds of travel time by staying in their current lane for another few hundred yards.
Be aware of workers' presence on and off the side of the road. Be considerate and drive with their safety and your own in mind.
Be patient. No construction zone lasts forever, so just slow down, relax, and get through the area in one piece. Your loved ones will thank you for taking the extra time to be safe.
Construction zones have always been dangerous areas for drivers and workers, but they don't need to be. By exercising proper safety habits, we can all ensure that we do a better job protecting ourselves, our families, and those who work in those zones from the death and injuries that traffic crashes can cause. And remember, if you do end up being injured as the result of another driver's failure to exercise caution in a construction zone, consult with an experienced personal injury attorney as soon as possible to ensure that your interests receive the protection you deserve.