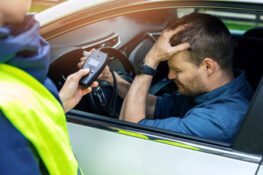 A provision of President Biden's $1.2 trillion infrastructure program could substantially reduce the threat of drunk driving accidents by the end of the decade. One of several road-safety provisions in the infrastructure bill requires the federal government to finalize rules within three years for alcohol-detection technology to stop intoxicated drivers from operating vehicles, then require automakers to put the technology in new cars within two years.
A 2020 study by the Insurance Institute for Highway Safety (IIHS) said that alcohol-detection technology could prevent a fourth of alcohol-related traffic deaths, saving an estimated 9,400 lives a year. The most promising of technologies in development is a passive alcohol sensor that detects a potential drunk driver's blood-alcohol content (BAC) by measuring the ambient air in the vehicle.
Mothers Against Drunk Driving says passage of the legislation marks "the beginning of the end of drunk driving," according to Fortune magazine. But the proposal also raises questions about who would be liable if a drunk driver managed to override a malfunctioning system and crashed.
The auto industry is wondering whether manufacturers will assume responsibility for drunk driving accidents not stopped by their technology. Malfunctions are inevitable, especially in the early years of a newly adopted technology. Insurers want to know whether losses caused by malfunctions will be covered by personal auto insurance or automakers.
"This will be a big preview of what happens when self-driving vehicles become the norm," Dan Hearsch, managing director of automotive and industrial management consulting at AlixPartners, told Fortune. "When a crash occurs and someone is injured, who is at fault? The courts are going to have to decide, and they're going to set a precedent for our autonomous future."
DUI Statistics in the US and Texas
Traffic statistics show that drunk driving remains a lethal threat on U.S. and Texas highways.
The IIHS said last year that alcohol has been a factor in 30 percent of U.S. roadway deaths every year for the past decade. Meanwhile, police arrest about 1 million people a year for alcohol-impaired driving.
During the pandemic year of 2020, Texas recorded 963 DUI-alcohol-related fatalities in Texas, according to the Texas Department of Transportation. On average, a person in Texas died every nine hours and six minutes as a result of a traffic crash involving alcohol.
The National Highway Traffic Safety Administration (NHTSA) says 10,142 people nationwide died in drunk-driving crashes in 2019. That's about 28 people killed in alcohol-related crashes every day or one person killed every 52 minutes.
Existing Technology to Stop Drunk Driving
Ignition interlock systems, which require the driver to satisfy a breath-testing unit before a car will start, have been available for years. Texas and most other states require drivers convicted of drunk driving to install interlock devices on their vehicles.
In a survey of U.S. drivers, nearly two-thirds of the respondents said they would support the installation of similar systems in all vehicles, as long as they were fast, accurate, and unobtrusive, the IIHS says.
Volvo and other manufacturers offer optional camera systems in vehicles that can detect unsafe driving actions and intervene to stop the vehicle.
Nissan has developed a new concept car with multiple preventive features against drunk-driving, including:
Alcohol odor sensors
Facial monitoring, which detects signs of drowsiness
Operational behavior monitoring that detects if the vehicle is drifting out of its driving lane
A public-private partnership called the Driver Alcohol Detection System for Safety (DADSS) project is road-testing a passive alcohol sensor that detects the driver's BAC by measuring the air inside the vehicle.
Officials with the DADSS project expect some manufacturers to begin offering the ambient-air-based alcohol-detection system as an option as early as 2025.
The IIHS report concluded that even if alcohol detection systems were required as standard equipment in all new vehicles beginning this year, due to the number of older vehicles on the road, it will take 12 years before they become common enough in the U.S. to save 4,596 lives a year — less than half their potential.
"A lot of safety features that start out as options quickly come to be seen as essential," Charles Farmer, the IIHS's vice president of research and the author of the paper, said in a statement. "It will take time for this technology to reach its full potential, but it is an important part of the overall strategy to reduce impaired driving."
Who Will Take The Blame For Drunk Drivers in High-Tech Future?
Fortune magazine suggests that the Biden Administration's mandate could force NHTSA to make recommendations for laws addressing self-driving vehicle technology, including liability for failures.
Some automakers have already announced that they take responsibility for fully self-driving functions, Fortune says. ​​Volvo said in 2015 that it would accept all liability for autonomous cars, "but the liability factor for partially autonomous vehicles remains unclear," the magazine says.
The New York State Bar Association, the largest voluntary state bar association in the country, created a task force on autonomous vehicles to examine legal questions about accident liability. The task force reported that "existing concepts of negligence, recklessness, misrepresentation, fraud and product liability should continue to apply" to advanced driver-assistance systems and autonomous vehicle cases.
"For the near to mid-term, the existing liability rules that hold human drivers and autonomous car manufactures accountable for unlawful driving or producing a defective product (respectively) should provide a robust and efficient incentive for appropriate investments in safe automated driving systems," the task force concluded.
Contact a Lawyer About Drunk Driving Accident Injuries in Texas
In Texas, a drunk driver, a retailer that provides alcohol to an intoxicated customer or an adult who contributed to an underage driver's intoxication by knowingly serving him or her alcohol may be held legally responsible for injuries in a drunk driving accident.
Contact the car accident attorneys at Herrman and Herrman P.L.L.C. if you have been injured in a drunk driving accident in South Texas. Our drunk driving accident lawyers in Corpus Christi, McAllen, Brownsville, and San Antonio have more than 100 years of combined experience and will handle all aspects of your claim, including seeing to your legal and medical needs and fighting for maximum compensation for you.
Contact us online or at (361) 882-4357 today to schedule a free initial consultation about your legal rights.