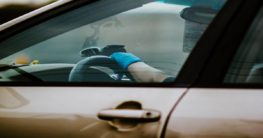 Across the state, Texans are getting back on the road during the coronavirus pandemic. In the beginning of the Texan response to COVID, the streets and highways almost emptied. Driving miles dropped by over 40% in March at the beginning of stay-at-home orders. Since then, it has picked back up. Although in parts it can seem that the COVID-19 threat is gone, it is not, and you should continue to act vigilant as you get behind the wheel to drive across state, across country, or even down the street. If you are in a situation where you must drive a long distance while the pandemic is still threatening the country, there are a few safety tips you should keep in mind and always follow in order to keep yourself and others protected.
Know Your Destination
Before you hit the road to drive to your intended location, you should get to know your destination in the context of coronavirus. Has this location or state seen a spike in cases recently? Have the hospitals and citizens been taking appropriate precautions? You should also read up on any travel restrictions and regulations, such as mandatory self-quarantine periods when coming from certain states. Make sure you adhere to all state-level regulations in order to keep yourself and the citizens of those states safe.
Think of Your Living Situation
The next precaution you should take is to think about your current living situation and make the appropriate choice when deciding to travel. If you live at home with an older or sick relative, they are considered high-risk individuals. In this case, you should consider postponing travel or reevaluating your travel plans to see if they are truly necessary.
Bring the Right Gear
No matter where you are travelling, it is important to bring all the right gear with you to protect yourself and others from germs and the spread of the virus. Bring plenty of cloth washable or medical-grade disposable face masks to wear at all times in public. Additionally, bring plenty of hand sanitizer and disinfecting wipes to clean off your hands and all surfaces you come into contact with. This may seem excessive, but especially if you are in a new place around new germs, it is important to be vigilant.