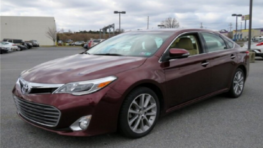 The most recent analysis of driver death rates in car accidents tells us that size matters and smaller is deadlier, according to the Insurance Institute for Highway Safety (IIHS).
The IIHS says in a May 2020 report that, despite manufacturers' efforts to make small cars safer, the smallest late-model cars and minicars accounted for 15 of the 20 models with the highest fatality rates for model year 2017. Meanwhile, larger luxury sport utility vehicles accounted for nearly half of the 20 models with the lowest death rates.
The rates include only driver deaths because all vehicles on the road have drivers, the IIHS explains. The number of deaths is derived from the federal Fatality Analysis Reporting System.
Fatal car accidents are up across the board. "The average driver death rate for all 2017 models increased to 36 deaths, compared with 30 for 2014 models," according to the IIHS, an automotive testing organization.
The rise is consistent with a larger number of U.S. traffic fatalities over the four-year period covered by this study, compared with the previous one. From 2015 to 2018 there were 147,324 fatalities, compared with 134,905 from 2012 to 2015."
Why Small Cars Have Higher Driver Death Rates
"Smaller vehicles offer less protection for the driver in crashes, and their lighter mass means that they take the brunt of collisions with larger vehicles," Joe Nolan, IIHS senior vice president of vehicle research, says in the report.
A vehicle's ability to resist forces colliding with it —its mass— is a key to damage in a collision. The more mass a vehicle has, the less impact a collision has on it. Conversely, the more mass and momentum a vehicle has, the more resistance it is to change, such as slowing down when a driver applies the brakes.
Simply put, a bigger car withstands a collision better and will cause more damage if it hits a smaller car. The force of impact in a collision increases with speed. Because of their size, smaller cars have less structural protection to protect a driver from sustaining fatal injuries in a crash.
The IIHS found that minicars have the highest overall death rate of any vehicle category with 82 fatalities per million registered vehicle years, and very large SUVs have the lowest, at 15.
Driver Death Rates by Vehicle Style and Size
The worst-performing vehicles of 20 reported and overall driver deaths per million registered vehicle years were:
Ford Fiesta (4-door mini) – 141
Hyundai Accent (4-door mini) – 116
Chevrolet Sonic (4-door small) – 98
Nissan Versa Note (small station wagon) – 96
Fiat 500 (2-door mini) – 95
The best-performing vehicles of 20 reported each had zero driver deaths per million registered vehicle years:
GMC Yukon XL 1500 4WD (very large SUV)
Infiniti QX60 2WD (midsize luxury SUV)
Land Rover Range Rover Evoque 4WD (small luxury SUV)
Lexus NX 200t 4WD (luxury midsize SUV)
Mercedes-Benz C-Class sedan 4WD (midsize luxury car)
Not only does size matter, but you get what you pay for because higher priced vehicles often are equipped with more safety features such as blind spot warning and lane departure alert systems.
"The overall death rates for luxury vehicles are substantially lower than the averages for nonluxury vehicles of the same sizes," the IIHS says.
In its fatal crash statistics, Texas has seen a similar difference among SUVs and other passenger cars.
1,743 fatal crashes involving passenger cars
1,326 fatal crashes involving pickup trucks
1,012 fatal crashes involving SUVs
How a Brownsville Small Car Accident Lawyer Can Help
No matter the car style or size, if a fatal car accident occurs and one driver is at fault, the injured party's survivors have a right to seek compensation for their loved one's wrongful death. Texas civil law allows a spouse, child or parent to bring a wrongful death claim after someone else has caused the death of a family member.
The Brownsville car accident lawyers at Herrman & Herrman, P.L.L.C. can help you pursue justice so that your focus can remain on your health and your family's recovery.
Wrongful death claims are meant to make a family financially whole after the unjust loss of a breadwinner and can involve sizable amounts of money. Unfortunately, insurance companies focus on limiting payouts and protecting their profits. Most insurers will try to pay the smallest amount possible to settle a claim.
You will need the help of a seasoned Brownsville injury attorney to have the best chance of obtaining a fair wrongful death settlement. Our experienced Brownsville attorneys will build a solid case and negotiate aggressively with the insurance company to resolve your wrongful death claim. We'll also be prepared to present a persuasive case in court, if necessary, though most cases are settled before trial.
If you have lost a loved one in a car crash in Cameron County, Texas, contact a Brownsville injury lawyer at Herrman & Herrman, P.L.L.C. today for a free, no obligation legal consultation. Our attorneys will explore all legal options to help provide your family a secure future in Brownsville.