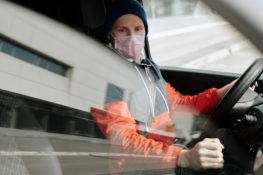 Although the COVID-19 pandemic is still raging on in the United States, Americans are getting back on the road. At the beginning of the American response to COVID, the streets and highways almost emptied. Driving miles dropped by over 40% in March at the beginning of stay-at-home orders. Since then, it has picked back up. Traffic patterns have changed throughout 2020, ebbing and flowing along with new updates about the pandemic's threat. Since traffic has returned to the Texas roads, here are some standard safety tips for highly trafficked roads, in some cases, in droves.
Stay Vigilant and Focuses
Since the roads during the pandemic can surge in periods of lower case counts, you should make sure you keep your wits about you. Stay extra vigilant when you're on the Texas highways and streets. There could be more people feeling safe enough to travel, which means not only extra Texans on the road but people from out of state traveling through Texas, too. To make sure you limit distractions, avoid using your cell phone, lower the radio volume, and make sure you look at the directions ahead of getting behind the wheel, so you don't need to fiddle with a GPS.
Only Travel if Necessary
Another thing that will keep you safe on these more trafficked streets in Texas during the pandemic is only driving if it is essential. If you live at home with an older or sick relative, they are considered high-risk individuals. In this case, you should consider postponing travel or reevaluating your travel plans to see if they are essential. While case counts may be low at some periods, it's still important that everyone does their part to stop the spread of the coronavirus.
The COVID-19 pandemic has changed a lot of our lives, and traffic is no different. When you return to the roads during or after the pandemic, remember that traffic patterns may surge in some periods, and you should keep the above safety tips in mind.
Contact Herrman & Herrman P.L.L.C. at 361.882.4357
Our firm is equipped with over 100 years of combined experience handling personal injury cases across Texas. Our outstanding record of favorable settlements and verdicts includes over 20,000 successfully resolved cases. Once we take on a case, we are relentless, and you can rely on us to pursue full compensation for you.
You can trust our attorneys to be compassionate and professional.
We will fight hard to obtain a fair settlement for you.
Our firm represents the injured and families who have lost a loved one due to others' negligent acts.
We serve as counsel in a range of injury cases – including car, truck, motorcycle, bicycle, pedestrian accidents, premises liability cases, product liability cases, and medical malpractice claims.
We have the ability to dispatch the Herrman & Herrman Accident Investigative Team to the crash scene to start an investigation and preserve critical evidence.