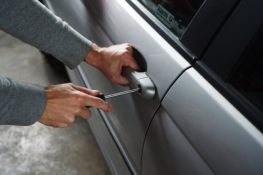 No matter where in the world you live, you can always be the victim of car theft. Even in the Rio Grande Valley, there are some precautions you should take in order to prevent any possible car theft from taking place. If you want to do all you can to prevent car theft, here are a few tips to follow.
Install a proper alarm or security system.
The installation of an alarm system can go a long way both in deterring theft and in ensuring that you are alerted as soon as the theft is attempted.
Keep your doors and windows locked.
Wherever you park your car in the Rio Grande Valley, one of the best ways to prevent vehicle theft is to protect against the possibility that anyone could gain access to your car. Make sure you always keep windows rolled up and all the doors and the trunk locked, whether you're parked in public or just at your home
Always park in a garage or locked area, if possible.
If it's possible, you should park in a garage or a locked area. Many homes include garages with code locking systems, and locations such as hotels or event venues may have secured garages as well.
Avoid keeping expensive items in your car.
Avoid keeping items like cell phones, computers, televisions, or important items in your car, as this could make your vehicle more attractive to theft. Whether a perpetrator takes your whole car or just the items inside it, you may have to deal with some kind of property loss if someone breaks in.
Memorize the make, model, and license plate number of your car.
If anything does happen, even if you hope it does not, you should be prepared. One way to do this is to memorize the make, model, and license plate of your car. Though this sounds simple enough, oftentimes people do not remember their license plate number when it comes time to repeat it to someone else, such as Rio Grande Valley police or other personnel.
Contact Herrman & Herrman P.L.L.C. at 361.882.4357
Our firm is equipped with over 100 years of combined experience handling personal injury cases across Texas. Our outstanding record of favorable settlements and verdicts includes over 20,000 successfully resolved cases. Once we take on a case, we are relentless and you can rely on us to pursue full compensation for you.
You can trust our attorneys to be compassionate and professional.
We will fight hard to obtain a fair settlement for you.
Our firm represents the injured and families who have lost a loved one due to the negligent acts of others.
We serve as counsel in a range of injury cases – including car, truck, motorcycle, bicycle, and pedestrian accidents, premises liability cases, product liability cases, and medical malpractice claims.
We have the ability to dispatch the Herrman & Herrman Accident Investigative Team to the crash scene to start an investigation and preserve critical evidence.