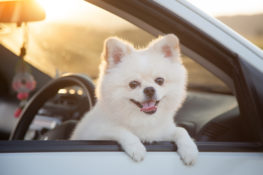 Every American innately loves road trips. With the right music, cookies and company, we can drive into the unknown till a beautiful sight draws us in. However, if your pet is this choice company, then you take on the extra task of ensuring that they stay safe.
There is a sea of possible car hazards to guard against when traveling or running an errand with your pet in the back seat. Don't stop at packing their chew toys or a warm cuddle blankie for your kitty; ensure you put measures in place to keep hazards at bay. And if you are not certain what exactly you need to do, here are some suggestions.
Get a travel crate for pets – there's no other alternative
You might be a careful driver, but minds still wander from time to time. So it might be unsafe to rely on your skills and instinct. A travel crate helps to keep them safe throughout the journey. And, irrespective of their size, there's always a suitable crate.
While using a crate, tie it down properly either on the floor or back seat to keep them from roaming and also prevent motion sickness.
The front seat is not for pets
Truly, every cuddle or playtime with this little cuties is heavenly, but that doesn't cut it when the front seat is in question. This also means no keeping them on the passenger's seat. No matter how cautious you usually are, keeping an eye on a pet and the road are mutually exclusive. Even the protective features like the airbag might be the weapon should an accident occur.
Always have an emergency kit within reach
When packing an emergency kit, don't limit the list to the kids and you; make arrangements for the pets ,also. Some of the items that will come in handy are a blanket ( can be used to constrain the pet if need be), antibiotic ointment, proof of rabies shots for dogs, hydrogen peroxide for cleaning of wounds, bandages that specific for pets, cleaning wipes and a cat litter box for those for cat owners. Most of these items (not limited to ones listed) can be gotten from pet stores.
When you've taken the necessary steps to secure your pets properly in the car, then you won't have to leave them alone at home when you go on exciting trips.