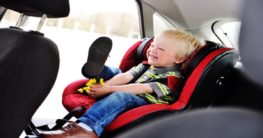 The state of Texas is not leaving anything to chance regarding their position on car seat safety laws. Failure to wear a seat belt is a punishable offense in Texas and children are not exempted. Adults will be held culpable for any defaulting minor in their car. Children between the ages of four to eight are entitled to booster seats in a car. This will push them up to the required height needed to properly make use of the adult seat belt that came with the car. The Texas Department of Transportation believes that strict compliance with the booster seat laws and other seat belt laws will reduce the odds of fatality during a road accident.
The Texas Transport Code
It is important you know exactly what the law states in Texas. According to section 545 – 412 of the Texas transportation code, travelers are mandated to strictly adhere to all seat belt and booster seat laws. The manufacturer's guidelines must be followed. This includes instructions regarding the age, height, and weight of the child and the appropriate safety measures recommended. Children that are less than eight years old or weighing less than 30 pounds are not allowed to use passenger seat belts when they ride in a car.
Solution: Booster seats
Install a booster seat for children within the ages of 4-8 or children that are not up to 4'9″ in height. The booster seat enables the child to use both the shoulder and lap seat belts. This must be done based on the manufacturer's guidelines. The shoulder belt must sit in properly, crossing the center of the child's chest. This ensures the child's safety.
Penalty for defaulters
Law enforcement in Texas is coming down heavily on traffic law offenders. This can be linked to the fact that about 35% of victims who died in an accident in the United States were not using safety belts.  Therefore, the Texas Transportation code has stated that the fine for defaulting on the booster seat law is $25 to $250 and any other charges that might be decided by the court. Of course, the parents of the child or the adult ridding together with the defaulting child will bear the responsibility of fulfilling the obligations of the penalty.
Aside from the fines or the punishments, parents must keep their children safe by religiously adhering to the recommendations of this law.