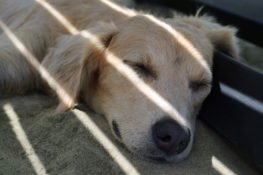 On this past Thursday, the San Antonio City Council approved and adopted revisions to the City Code that require owners of all outdoor pets to provide shade for their animals to be able to take shelter from direct sunlight when outdoors.
The idea was first sparked earlier this summer when a six-month-old shepherd mix named Molly sustained severe thermal injuries from prolonged exposure to the sun with no shelter. The owners surrendered Molly to the Animal Care Services where she received medical treatment and was able to recuperate.  Since the incident, Molly has now been adopted.
New Revisions Define Shade
District 8 Councilman, Manny Paelez, along with the Animal Care Services and the Animal Defense league spearheaded the initiative and prepared the revisions to the City Code which was approved on Thursday.  The new law went into effect immediately.
The new revisions included adding the definition of shade to the current code which gives officers the tools to be able to ensure that pets are safe.  Shade can include patios, trees, canopies, and more. Essentially anything that provides the animals shade from direct sunlight and allows them to get out of the heat can be considered shade under the city code.
In a written statement to the San Antonio Express-News, Pelaez said: "adding the definition of shade to our current code brings a critical gap and provides ACS officers with the necessary tools to ensure our pets are safe, especially during the hot summer months."   The City code previously included various requirements for pet owners to provide animals with "humane care and treatment" but it did not go as far as to require owners to provide shade to the animals.
The new city ordinance can come with civil or criminal penalties and can result in fines up to $2,000.