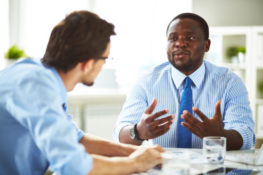 For many people, one of the most challenging parts of navigating a personal injury claim is communicating effectively with your attorney. Below is a list of tips that can help clients more effectively communicate with their attorney:
1. Start with a solid foundation
Always make sure you tell your attorney EVERYTHING about the circumstances surrounding your injury when you first retain counsel. Even though you may think it's not important, let your attorney make that decision. Make sure to be clear and thorough about everything and anything that may affect your claim.
2. Clarify your expectations
Often times, what the client expects and what is realistic based on the circumstance can differ. If you as a client have certain expectations, be upfront and candid about those expectations and determine whether or not the attorney can fulfill them.
3. Return phone calls
Clear and regular communication with your attorney is important. Make sure to always return phone calls or emails so you can properly understand what is going on with your case.
4. Listen to EVERYTHING
Sometimes attorneys take a long time to explain something. It is important to listen to everything that is said. Be an active listener-don't listen only for what you want to hear.
5. Don't Be Afraid to Ask Questions
There are no dumb questions! For most clients, this is the first time they have ever gone through anything like this, and they are sure to have questions. Many times though, clients will hesitate to ask questions at the risk of having a "dumb question". Always ask if you don't understand, and ask for clarification until you understand what is going on. It's is your case and your injury so it is important you understand what is going on!
It is important to speak to an attorney about your legal rights if you are ever injured due to another person's negligence. Contact Herrman & Herrman, P.L.L.C., located at 1201 Third St., Corpus Christi, Texas 78404 if you have any questions about a potential claim or would like to sit down for a consultation and discuss your issue.
*This blog is for informational purposes only and is not intended to, and should not be construed as legal advice.