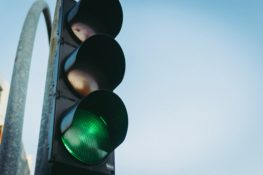 A recent AAA study has found that the deaths caused by a driver blowing through a red light have risen to a new 10 year high. That means more people died from drivers running red lights in 2017 than have died in any of the 10 prior years. That's a disturbing statistic not only for motorists but for anyone who interacts with the road in any way, including pedestrians and bicyclists. According to the AAA study, more than half of the red light fatalities were passengers. So, the people making the decisions behind the wheel were not even the primary fatalities. People becoming more relaxed about their habits around red lights is not a good thing. Overestimating the time you have to speed through a yellow light can be just as bad as running the light when it is solidly red, too. If you're concerned about this new rise in red-light running-related deaths, here are some of the best ways to keep yourself and your passengers safe.
Avoid Distraction
A good tip for any driver in any situation is to avoid distractions as much as possible. That means lowering the volume on the radio, leaving your phone in your center console or out of arm's reach, and making sure that the passengers in your car are not intentionally distracting to you.
Leave Your House With Plenty of Time
One of the top reasons for blowing through an intersection is because you're in a rush. Make sure you leave your house with enough time to get to your destination so that you do not make a mistake out of a hurry.
Don't Overestimate Yellow Lights.
Sometimes, we overestimate the amount of time we have to get through a yellow light. However, we learn that yellow lights mean "slow down" for a reason. When you're approaching a yellow light, bring your car to a lower speed and make a complete stop to avoid accidents.
Approach Traffic Lights With an Element of Caution
Even if a traffic light seems to be a solid green, it's important to approach intersections with an element of caution. Reduce your speed a bit, and don't hurry through a traffic light intersection, just in case.
Contact Herrman & Herrman P.L.L.C. at 361.882.4357
Our firm is equipped with over 100 years of combined experience handling personal injury cases across Texas. Our outstanding record of favorable settlements and verdicts includes over 20,000 successfully resolved cases. Once we take on a case, we are relentless, and you can rely on us to pursue full compensation for you.
You can trust our attorneys to be compassionate and professional.
We will fight hard to obtain a fair settlement for you.
Our firm represents the injured and families who have lost a loved one due to the negligent acts of others.
We serve as counsel in a range of injury cases – including car, truck, motorcycle, bicycle, pedestrian accidents, premises liability cases, product liability cases, and medical malpractice claims.
We have the ability to dispatch the Herrman & Herrman Accident Investigative Team to the crash scene to start an investigation and preserve critical evidence.