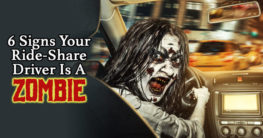 When you're stepping out to enjoy Halloween this year, in addition to all the ghosts, ghouls and goblins, there's one more thing to keep away from: zombie ride-share drivers.
What if My Uber Driver is Out of It?
If you're taking an Uber or Lyft on Halloween, the last thing you need is for your driver to be a zombie.
"Zombie-behavior from a ride-share driver won't just take a chunk out of your evening," says Gregory H. Herrman, Managing Partner at Herrman & Herrman. "There's a good chance they will take a chunk out of YOU too!"
With the increasing popularity of ride-share services, Herrman feels it imperative to inform the people of Texas of the danger. "It's just one more service I want to provide to our local community in Corpus Christi and the Coastal Bend," he said.
"At Herrman & Herman, we are always putting you – our clients and the general public – first. It's in our slogan. 'Always Putting You First'. The zombie thing has become so big, I couldn't ignore it anymore. I had to warn people."
To help you identify whether your ride-share driver IS, in fact, a zombie, Gregory shares the 6 signs that your ride-share driver is, in fact, a zombie:
1. Muttering
Your driver doesn't talk to you and instead just mutters to themselves – and if you listen closely, you hear the word 'Brains', over and over again
2. Band Aids
Your driver is more interested in your new Band Aid than whatever perfume or cologne or fashionable new clothes you're wearing.
3. BBQ
No matter how good the smell of the BBQ joint you just passed, your driver didn't even notice In Texas.
4. Chicken Bones
Those chicken bones left behind on the back seat by the previous passenger? That's not chicken, that's the previous passenger.
5. Slow Shuffle
You have to wait while the driver slowly shuffles to the trunk to help with your bags. Typical waiting time 15-30 minutes. Skip the luggage, it only slows you down in the Zombie Apocalypse in any case.
6. Music
There's just one song playing on a loop in the car: 'Thriller', by Michael Jackson.
---
Were you unfortunate enough to be in an accident with a zombie ride-share driver?
Whether or not the third party was a zombie, we can still help you. Let us handle your case – and the walking dead – while you get on with enjoying life. It's what we're here for.
Call the Zombie Attorneys at Herrman & Herrman PLLC if you have questions about your safety with your recent car share excursion.