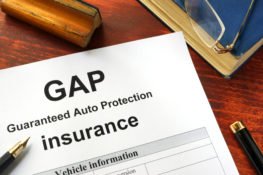 Like most drivers, you have probably heard many of the car ownership horror stories out there and wondered how many of the tales were true. For example, most people have heard or read about drivers who suffered a total loss collision soon after purchasing a vehicle and ended up owing the dealership more than their insurance would cover. You may have even wondered how such a thing could be possible. Sadly, it is not only possible but more common than you might think.
In fact, such occurrences happen with enough regularity that insurers have even developed a type of coverage to protect you against that eventuality. It's called gap insurance, and it is something you need to consider when you are purchasing a newer car or truck. Without that protection, any collision, theft, or another mishap that results in your car being declared a total loss could leave you stuck with outstanding loans that insurance cannot cover.
What is GAP Insurance?
Simply put, gap insurance is a type of coverage that covers the difference between the amount you owe on your vehicle loan and the amount that your insurance company is otherwise willing to pay for the vehicle if it ever becomes a total loss. You can obtain this coverage from your insurer or your auto dealer, and it only comes into effect when a supplementary payout is needed in the event of a collision that results in damages that exceed the value of your car.
There are even gap plans that can help to cover your policy's deductible, as well as various loan or lease options that can provide other benefits. This coverage can be vital if you are purchasing a car without offering a down payment, or when you are leasing a vehicle. It is also wise to consider gap policies when you plan to drive extensively since excessive vehicle use can quickly lower a car or truck's value.
For most drivers, gap coverage is only needed for the first few years of ownership. As your car ages, the gap between its value and the amount insurers will pay for it tends to disappear.
Why Get GAP Insurance?
The main reason for getting gap coverage is obvious: if you suffer a crash that totals your vehicle, you don't want to be left with an outstanding bill to your lender simply because your insurer pays you less than what you owe on your loan. If that were a remote possibility, you could probably just take the risk and forget about paying for this extra protection. The problem is that these situations are anything but rare:
According to estimates from CCC Information Services, about 18% of vehicles that suffer a crash end up being written off as a total loss by insurers. That's a tremendous increase from just fifteen years ago when only 9 percent of all crash appraisals resulted in a total loss assessment.
You have probably heard that your vehicle loses value the moment you drive it off the lot. It's true! The fact is that your car can lose as much as 11% of its value within the first minute of leaving the dealership. That means that if you suffer a crash on the road in front of the dealership, you could end up with a total loss assessment that your insurer simply will not cover – leaving you with a hefty loan bill for a car that you can no longer drive!
Of course, the risk doesn't end with that initial depreciation either. Over the first three years after purchase, your vehicle can lose roughly 60% of its total value.
It is also important to know your state's legal standards for total loss declarations. It can vary dramatically, and you don't want to be caught without the coverage you need. For example, in Iowa, an insurer can declare your vehicle a total loss if the damages exceed 50% of the estimated value of the car or truck. In Texas, that assessment can only be made when the damages equate to 100% of the vehicle's book value.
Texas Drivers: Know the Rules!
For drivers in the state of Texas, there are some specific insurance rules that need to be understood. Like other states, Texas has minimum insurance coverage requirements designed to ensure that every driver is able to meet his or her financial responsibility in the event of an accident. Texas has liability coverage mandates that include insurance that can cover at least $30,000 for each potentially injured party (or total coverage equal to $60,000 per accident), as well as $25,000 worth of property damage coverage.
As is true in most states, Texas law does not acknowledge the no-fault insurance principle. As a result, if you are involved in an accident with another vehicle, someone will be judged to be responsible for the event, and that person's insurance will have to cover any property damage or injury costs.
Regardless of whether you are found to be at fault in an accident, the last thing you need is to also be stuck with a totaled vehicle and an insufficient amount of insurance coverage to compensate you for the loss. The good news is that gap insurance coverage is available from insurers in Texas, so it is fairly easy to find the coverage you need. The state even has a list of authorized gap insurance providers that you can reference as you search for the coverage you need.
Apart from your home, chances are that your vehicle will be one of the most important investments that you make. And like your home, you need to protect that investment with the best insurance coverage that you can provide. However, you can never enjoy complete protection for your investment unless you have covered every possible eventuality. Gap insurance may not be the first thing that you look for when you are thinking about buying a new car or truck, but no purchase should be considered complete without this vital coverage.