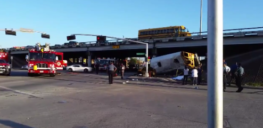 The Houston Fire Department has confirmed that on Tuesday morning, two students have died and three others, including the driver, were injured when a Houston Independent School District bus fell off of the 610 South Loop.
The bus crash reportedly occurred at Telephone Road around 7 a.m.
A woman driving a late-model Buick LeSabre on the left-hand side of the bus thought that a car was going to drift into her lane. She then swerved and crashed into the school bus to avoid the other vehicle.
At that time, the school bus driver tried to avoid the Buick and over-correct and ended up crashing through the guardrail and falling off the overpass and onto the frontage road below.
Witnesses say the bus nose-dived and then fell onto its side along the freeway embankment.
HISD said the bus was on the way to Furr High School when it crashed. One female student died at the scene while the bus driver and three students, two males and one female) were taken to the hospital in unknown condition.
Furr High School is also home to REACH Charter High School and it is unclear at this time whether the students attend Furr or REACH.
"We are deeply saddened by this tragedy and the loss of one of our students," said HISD Superintendent Terry Grier. "I ask all of the HISD community to join me in praying for all of those involved."
The accident is under investigation by Houston ISD Police and Houston PD. The woman driving the Buick is being detained for questioning, but no charges have been filed at this time.
According to the school district, the bus driver had been with HISD for about three years with a clean driving record. The bus last underwent a maintenance inspection in June.