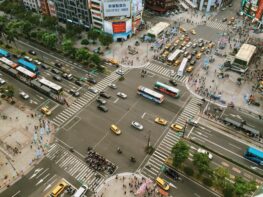 We've all encountered rush hour traffic. It can be stressful, it can cause lateness, and it can even be dangerous. Highly trafficked areas of roads and highways provide more possibilities to be in car collisions. To keep yourself safe on the road in peak rush hour times, you should read up on tips for your driving and your overall behavior. Here's how to stay safe in rush hour traffic.
One: Stay Calm at All Times
Rush hour can cause a lot of stress, both for you and for other drivers. However, staying calm can help you immensely. If you are relaxed behind the wheel, it will help you avoid road rage and aggressive driving, two things that can cause accidents.
Two: Don't Drive While Distracted.
If you want to stay safe and avoid accidents, it's important to remove any possibility of distraction. Distracted driving can be as dangerous as driving under the influence. Make sure you keep your phone out of reach, don't fiddle with the radio too much, and ensure that any passengers in your car are allowing you to focus on the road.
Three: Stay Alert and Defensive
Even if you are calm and relaxed, other drivers may still feel stressed while on the road. That's why it's important to stay alert and practice defensive driving so that you can avoid drivers who are speeding or swerving out of frustration.
Four: Plan a Safe Route
It may behoove you to plan before you leave your home to ensure that the route you are taking to your destination avoids highly trafficked or busy roads and intersections. This way, you can avoid a lot of the congestion and stress that comes with rush hour traffic and keep yourself safe while you're driving.
Five: Service Your Vehicle Frequently to Keep it Safe
An important part of driving during any time of day is to make sure the vehicle you're driving is safe and is up to code. That means going to the mechanic regularly to get your oil changed; your brakes checked, and ensuring that your alignment is correct. These maintenance steps will keep your car safe.
Contact Herrman & Herrman P.L.L.C. at 361.882.4357
Our firm is equipped with over 100 years of combined experience handling personal injury cases across Texas. Our outstanding record of favorable settlements and verdicts includes over 20,000 successfully resolved cases. Once we take on a case, we are relentless, and you can rely on us to pursue full compensation for you.
You can trust our attorneys to be compassionate and professional.
We will fight hard to obtain a fair settlement for you.
Our firm represents the injured and families who have lost a loved one due to others' negligent acts.
We serve as counsel in a range of injury cases – including car, truck, motorcycle, bicycle, pedestrian accidents, premises liability cases, product liability cases, and medical malpractice claims.
We have the ability to dispatch the Herrman & Herrman Accident Investigative Team to the crash scene to start an investigation and preserve critical evidence.