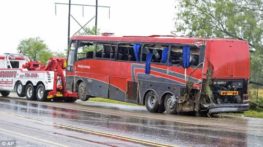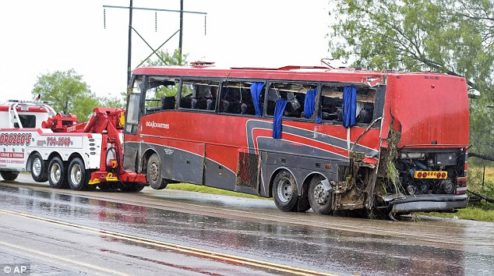 A charter bus headed to Kickapoo Lucky Casino Hotel rolled over Saturday morning sending 44 people to the hospital and taking the lives of 8. Seven of the passengers died at the scene and another at the hospital, officials say. It is being referred to as one of Texas' deadliest bus accidents to occur in the past seven years.
The bus was traveling from San Juan to Eagle Pass and held 52 passengers, most of which were elderly. According to CNN, the driver had lost control of the bus when traveling North of Laredo on U.S. Highway 83 in Webb County.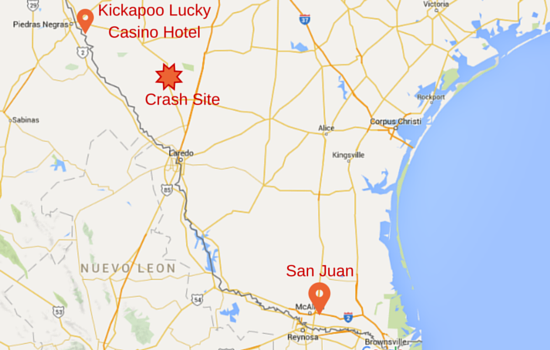 The bus, which is owned by OGA Charters, has been under scrutiny for its questionable maintenance history. According to the Dallas Morning News, the bus company had been ordered twice by Louisiana state inspectors in 2015 to take one of its buses off the road to fix brake and emergency exit problems. That same inspection found brake connections with leaks, problems with the automatic brake adjustment system and a discolored windshield.
The bus was supposedly put out of service, however, four months later another Louisiana inspection once again found general brake problems and cited similar issues. The Federal Motor Carrier Safety Administration showed records that regulators ordered OGA Charters to sideline the bus in May of 2015, and once again in August when they had apparently gotten worse.
It is not clear as to whether or not the bus involved in the crash was indeed the same bus ordered to discontinue service nor as what exactly the company did to fix those problems between inspections. Records noted that OGA Charters had no reported crashes within the past 2 years, but did show that 6 driver and vehicle inspections since 2014 had 15 violations ranging from driving records to maintenance problems.