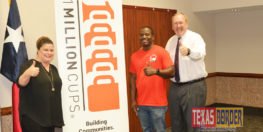 The McAllen Chamber of Commerce is starting a new monthly program to help entrepreneurs.
One of the significant challenges for anyone in business is innovation, and the McAllen Chamber of Commerce is not the exception. Steve Ahlenius, President, and Chief Executive Officer is always on the lookout for new ideas and programs where chamber members can be a part of and participate to interact and lean.
Called "1 Million Cups," the program gives local entrepreneurs access to mentors, advisers, and other local entrepreneurs. Two entrepreneurs are given the opportunity to present their startups to a small panel. The hope is that the sessions help the entrepreneurs to better define their business.
The session for each entrepreneur takes only six minutes and includes questions like, what is your story? What is the burning problem? What is your solution? What makes you different? What are your two most significant challenges? And most importantly, how can we help you as a community?
After the presentation, the audience provides significant feedback to the entrepreneurs.
Entrepreneurs gain insight into possible ways they can improve their businesses, gather real-time feedback, connect with a community that cares about their progress, and walk away feeling like they have advanced their business.
Two of the first two participants in the program had food-related businesses. Mark Davis founded is a co-founder of Rolling with Cream. The company sells Thai inspired ice-cream rolls. The company started as a food truck but now has a brick and mortar shop.
Complementing the session for 1 Million Cups, came another unique business owner Victoria Barrera Cappadona the owner of Cappadona Ranch. This is family business produces Mesquite Bean Jelly a one-of-a-kind Texas treat. Slightly fruity with a hint of caramel. Also, they produce Roasted Mesquite Tea & Coffee. Tea high in protein and caffeine free coffee. What else do you want?
This monthly program created by the McAllen Chamber of Commerce provides an excellent outlet for testing your business idea.
Source:
https://texasborderbusiness.com/entrepreneurs-interact-with-mcallen-chambers-new-program-1-million-cups/