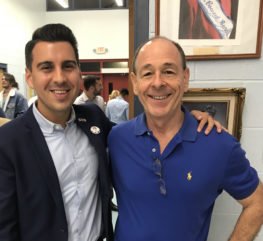 Opponents With Significantly Different Views Face Off For Congress
On November 6th Democrat Eric Holguin will face off against Republican Michael Cloud for the 27th District's seat in Congress. In this highly anticipated midterm election, voters are presented with two starkly different candidates whose conflicting core beliefs signal drastically different futures for the communities and constituents they hope to represent.
Both Holguin and Cloud are new additions to the ballot in 2018 which presents voters with a welcome opportunity to move forward after the scandalous and shamefully swift departure of the district's former Congressman, Blake Farenthold. If you haven't indulged in reading up on Farenthold's resignation you should know that's it's worth it. Since their predecessor used $84,000 of taxpayer money to settle a sexual harassment allegation he was facing, a sum Holguin demanded to be paid back to the hard-earned taxpayers that footed the bill, it's obvious that the seat Farenthold once rested atop is in desperate need of a reputable replacement.
Farenthold's Resignation Calls for Special Election
Farenthold's unexpected resignation earlier this year meant that a special election needed to be held in June to fill the tarnished Congressman's seat. Cloud was able to draw enough support to beat out eight other candidates, including Holguin, and was sworn in not long after. He will serve out the remainder of the former representative's term which means the circumstances surrounding this next trip to the ballot box are convoluted, to say the least.
What remains in this last stretch before the midterms have Cloud already lining his campaign's pockets with his new D.C. connections. He now cozies up to power players in the Republican Party including, you guessed it…Trump. To praise Cloud's commitment to the MAGA-vision he relentlessly reiterates, Trump rewarded him and 6 other Texas incumbents by bankrolling their campaigns in November. This backing hopes to make sure the White House and its current administration continue to clench their grip on Congress.
Never one to stand idly by, Holguin and his grassroots efforts of local mobilization continue to campaign for victory on November 6th. While Cloud collects outrageous contributions from big-name donors, Holguin's approach is the exact opposite. Trump politics aside, Holguin's campaign vehemently opposes political Super PACS which give inflated election investments in exchange for future favorable policy making and advantageous governmental regulations. So down the road when Cloud and his cohorts become political puppets powered by purse strings, Holguin, and other Texas politicians like Senate hopeful Beto O'Rourke, will never have to compromise their standards answering to billionaire benefactors. It's that dedication to the principles of a democratic republic, and not an out of control oligarchy, that leads Eric Holguin, Beto O'Rourke, and many others to derive donations and direct support from the people they hope to represent…instead of the 1% who like to cut checks.
But that isn't the only instance of Cloud's judgment on issues causing plenty to question exactly where his standards lie.
Cloud's Controversial Vote on Cybersecurity Attacks
It bewildered many when he voted against strengthening the Texas election system to counter future cybersecurity attacks. His vote meant that the state's election system remains vulnerable to being hacked, causing some to wonder how that correlated to the involvement of Russia in the contested and controversial 2016 election.
But how could we expect a man who refused to stand by US Intelligence agencies and who silently supported Trump's meeting in Helsinki with Putin to care about the validity of the election process?
Ironically a candidate like Cloud who flippantly dismisses additional realistic security measures in the process of our democracy will happily fall in line with the efforts of his party's leader to build an unrealistic and inhumane wall of purported protection along our southern border with Mexico. The Trump administration's strict stance on immigrants has led children to be ripped from their parent's arm's with total disregard for their wellbeing and right to due process. This flagrant lack of concern for civility and care is irrelevant to Cloud and his colleagues in Congress. In fact, it was his emotionless and robotic response regarding the actions surrounding the Trump administration's policies that spotlights not only his lack of remorse for the plight of those families affected by said actions but the coldhearted complacency that marked his willful acceptance.
Holguin called on Cloud to condemn the atrocities taking place on the border but found himself advocating for immigrants and asylum seekers without his Republican opponent. As a proud South Texan, Holguin values the hard work of undocumented individuals and the legacy of immigrant's vital impact on building America into the nation it is today. That legacy now includes in its history thousands caught in the web of Trump's sweeping deportation. Children who have suddenly found themselves without a family to hold, without a country to call their own, and without a voice from the other side of the political aisle (even though the current violation of human rights is unfolding just a couple hundred miles south of District 27).
But when Cloud sits silently, Holguin stands tall and refuses to accept anything less than staying true to the essence of our inclusive and ever-evolving nation.
Holguin Stands Up For The American Dream
It's his advocacy for those who need someone to stand up for their chance at the American dream that has cultivated the broad and diverse following Holguin has. He is observed as a person who wants to invest in the people he hopes to represent and the infrastructure that can grow in the place they call home also. He cares about issues ranging from keeping family-owned farms in business to making sure the rights and protections of all Americans is a top priority. His diverse following aligns with his diverse understanding of the many facets and factors that affect people from all walks of life.
You'll see him supporting local nurses in their efforts to receive better wages.
You'll see him meeting Vets and listening to the fundamental reformations needed within our Veterans Affairs Department to guarantee the men and women who served this country can be paired up with skilled jobs and also won't find themselves fending for healthcare in a privatized alternative.
You'll see him lending a helping hand at almost any community event.
When he launched his campaign just after Hurricane Harvey took its toll on the gulf coast, his slogan #RebuildTexas meant not just picking up broken pieces to put them back together, but to seize the chance to start a new chapter and harness the strength that South Texas has within it to create a new community together. It was backed up with some strong policy proposal ideas that included rebuilding the infrastructure, growing the economy, creating jobs, opening the doors to new industries, fighting for health care, investing in education, ending poverty and hunger, defending social security, supporting veterans, rallying for civil rights, engaging the youth, providing tax relief, and the list goes on and on.
Voting to Take Place on November 6th
Holguin isn't just running for office, he is sprinting the length of a marathon, jumping hurdles, and not stopping until he gets to November 6th; and it's inspiring to witness.
Just a few short months from now that sprint, the campaign's crescendo, will come to the finish line on Election Day, and the victor along with his intended future for South Texans and Americans alike will be crossing it…and then will be on his way to Capitol Hill. Who claims the victory of that race is ultimately up to you. Herrman and Herrman endorse Eric Holguin.
Written by: Korbin Matthews