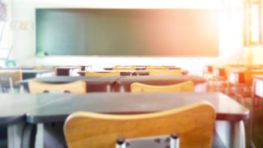 Monday evening saw a controversial vote by McAllen ISD, where School Board Members voted 5-2 in favor of relocating students and staff of several campuses.
These changes came after months of debate on options for addressing the facilities' needs.  The affected campuses include Lincoln Middle School, Travis Elementary, De Leon Middle School, Achieve Early College Campus, Navarro Elementary School, Seguin and Wilson elementary campuses, as well as Milam and Gonzalez Elementary campuses, among others.
The plan includes repurposing some of the campuses to house the district's Head Start program and special education department. Others include a new tuition-based pre-K program also announced on Monday, as well as Milam and Gonzalez Elementary campuses becoming closed enrollment.
The board and Superintendent were quick to note that teachers and staff will relocate along with the students, with no plans to eliminate any of those positions.
After the vote in favor, teachers and staff were visibly very emotional as many were not aware of the change and a lot of concerns arose regarding transportation, overcrowding, and level of study, among others.
Over 100 parents have signed up asking for meetings to go over and address all their concerns. School Officials indicated that this vote was needed and couldn't be delayed as these changes are to go into effect for the 2018-2019 school year, with budgeting, notification, and implementation needing to begin before the end of the current school year.
While one board member, Debbie Aliseda agreed with the need for the repurposing plan, she felt more input was needed, which drew applause from the audience.
Certainly in the minds of many is the recent bond proposal that the school district failed to pass, where despite months of internal discussions and meetings, ultimately the lack of public awareness did that bill in. Subsequently, in the next election cycle, all incumbent trustees who had a challenger lost their seat. Here is to hoping they do the proper outreach this time as voters have made it clear they are not afraid to make a change.
Mr. Gonzalez, the superintendent, remarked that this is a living document and can change depending on enrollment before undergoing transition, but that it was needed in order to prevent rezoning of these campuses.
Many in the audience were sporting their campuses' logos and believed there was nothing to this rumor until ultimately being blindsided Monday evening as many left in tears.