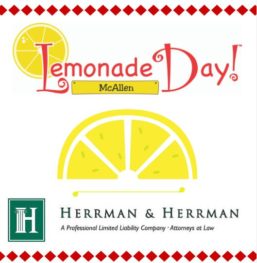 For many of us, running a neighborhood lemonade stand as children offered an early introduction to operating a successful business.
Herrman & Herrman, P.L.L.C. is pleased to take part in Lemonade Day in McAllen on Saturday, May 13. The law firm is sponsoring two lemonade stands at our office at 4121 N. 23rd Street in McAllen.
Lemonade Day is a community-wide event designed to teach children how to start, own and operate their own businesses and to encourage entrepreneurship. Children who take part in Lemonade Day have the chance to learn business skills and life skills including the importance of taking responsibility and the value of goal setting.
The attorneys and staff at Herrman & Herrman, P.L.L.C. recognize that young people are our community's greatest resource and it is important to help our youth develop skills to become tomorrow's successful business people and community leaders. As a South Texas law firm with offices in McAllen and Corpus Christi, Herrman & Herrman seeks to give back to the communities where we live and work.
About Herrman & Herrman
Herrman & Herrman, P.L.L.C. is a Texas personal injury law firm with more than 100 years of combined experience helping individuals injured by the negligence of others recover the full and fair compensation allowed by law. The law firm has offices in Corpus Christi and McAllen, Texas.