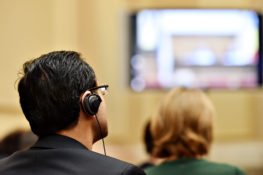 Hidalgo County, one of the most multilingual areas, is finally providing translation services to Spanish Speaking residents who routinely attend their meetings. Commissioners have been in the process of finalizing this plan in order to help those who attend these meetings be able to listen and understand all that is going on at their weekly Commissioners Court Meetings.
Members of LUPE, La Union del Pueblo, a nonprofit group that advocates for people living in colonias, had been pushing for this service for months and it appears to have finally paid off. Testing is set to begin for listening devices and a dedicated translator will be provided who will translate the meetings.
Additionally, the public agendas have begun to be printed in both English and Spanish a Spanish translation tool has been placed on the County's website.
County Officials state that this is all in an effort to get every resident included in the democratic governing process.
Translation Services Will Help Residents Understand Community Issues
The cost has yet to be determined for this new procedure and this effort to include and make sure the people do not feel discriminated and left out in the decision-making process is sure to help our area's bilingual speakers to not feel so much like an outsider.
Drainage has been a big issue for the region, especially recently with the flooding and a new drainage bond proposal set to be floated in the next few months and many residents have been going to podium during open forum and voicing their concerns, but many do not understand what is going on because it is in English.
The plan is to have this translation service up and running by the end of October. Here is to hoping this is done. This type of action has been long overdue and with the colonia advocate groups longing for more accountability and accessibility, this will go a long way towards closing the gap between our elected officials and the community.
Our community in the Rio Grande Valley is growing and very much a Spanish speaking region where many residents only speak Spanish and they deserve to have their voice heard and understand where their taxpayer dollars are going and know what is in store for the future.
Two vendors are scheduled to give demonstrations to the County's purchasing department to help review the technology, how many headsets will be needed and ultimately implement the plan.