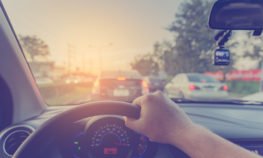 The AAA Foundation for Traffic Safety published the American Driving Survey providing a fascinating snapshot of our daily driving habits. The foundation's goal is to reduce injuries, prevent crashes and save lives by educating the public about traffic safety. The survey, involving personal interviews with 3,319 drivers, revealed some interesting facts about current driving trends.
Findings of the Study
Some important results showed:
Americans drive an average of 29.2 miles a day, making two trips totaling about 45 minutes.
Women take more frequent trips in the car.
Men, however, spend more time driving and drive 35% more miles than women.
Americans drive more on weekdays than weekends.
Motorists in the South drive the most, and motorists in the Northeast drive the least.
Americans drive more during the summer months.
Teens and seniors over the age of 75 drive less than other age groups; those 30-49 years old drive the most.
Drivers who live in the country drive more time and greater distances than people who live in medium-sized cities.
Knowing the patterns of motorists and their driving habits can assist in predicting where and when accidents are more likely to occur, guide traffic enforcement efforts and provide other data that could be valuable in reducing the numbers of injuries and fatalities.
Oil and gas production has created a higher volume of traffic and more heavy vehicles on the roads in the region around Corpus Christi, making it more important for drivers to be aware of speed limits and other vehicles.
According to a recent Texas Department of Transportation release, there were 3,660 traffic accidents in the 26-county Eagle Ford Shale region including Corpus Christi that caused serious injuries and fatalities in 2014.
Through the first half of 2015, the region had 1,311 traffic accidents and 95 fatalities. The leading cause of accidents was the failure to control speed, according to TDOT.
More than half of the traffic fatalities in Texas in 2014 occurred in rural areas. The accidents took the lives of 1,974 people, according to TDOT.
When Other Drivers Cause Accidents
If you live in one of the southern parts of the country, or in a rural area, statistics reveal that you spend more time driving, and have an increased risk of being involved in a dangerous car crash. Drivers in certain categories must use a greater level of caution and remain on alert for dangerous conditions and situations to try to avoid the tragedy of an avoidable traffic accident.
If you are involved in an accident caused by another motorist, Herrman & Herrman can help. Our team of car accident lawyers and professional accident investigators can identify eyewitnesses, move ahead to reconstruct the scene of an accident, and gather relevant police reports, as well as engage in a full inspection of the vehicles involved for evidence of the failure of vehicle parts. Our purpose is to help you determine the at-fault party or parties so that a claim can be initiated to recover compensation for all your losses. Always be alert while driving in Texas, and if another driver has caused an accident, contact our firm so that we can help you pursue justice and compensation.