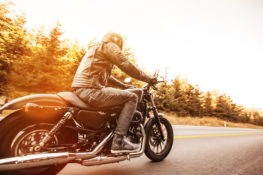 Motorcycle riding is one of the best experiences anyone can have. Often referred to as an overload of your senses, the thrilling exercise gives you a feel like no other.
Many motorcyclists are familiar with the feeling of the wind brushing against their faces, marauding through a fleet of rather slow cars at that point. The feeling is nothing short of phenomenal; very little can be compared to it.
But you know what's better than experiencing the life changing feel of a motorcycle ride? Enjoying the cruise while riding along amazing routes.
In this article, we bring you a few of those amazing routes from the very home of such wonders – Texas:
Situated few miles off Fedricksburg within central Texas, you have scenery of purely beautiful 20 miles ride which starts in the small town called Willow city.
The area provides a pleasure zone for lovers of wildflowers as they are ever-present within it. Riders get to ride up and travel around the beautiful hills.
The area being a motorcycle friendly one has a few bars which are set up to cater for the motorcyclists.
One thing to be cautious of when riding through this area though, is the heavy presence of cattle on the road.
Cutting through the thick edges of the Sam Houston National Forest, you have approximately 30 miles of twisted road, exactly facing the west side of Montgomery .
This route provides motorcyclists with an unforgettable ride through very eye catching pines.
The route has a couple of stops for a good snack and to ease the stress of riding.
Approximately 100 miles facing the northwest of San Antonio, you have a string of roads hugely believed by many to be the best road within Texas for motorcyclists with experience who seek a thrilling trip.
This road is not in any way recommended to riders with little to no experience due to its complications.
The area has a motorcycle museum amongst other side attractions to make the ride an exceptional experience for seasoned riders.
This route offers riders who are adventurous a nice break away from Houston.
The trip on the way out is widely considered to be an uninspiring one but that changes once the rider is out of Houston.
The ocean provides a soothing view and feel for the riders.
Texas contains some of nature's finest attributes and this makes it an ideal location for riders who don't just want a ride but want a memorable one.